Joliet man celebrates his 100th birthday
By Rex Robinson | 8/6/2013, 12:50 p.m.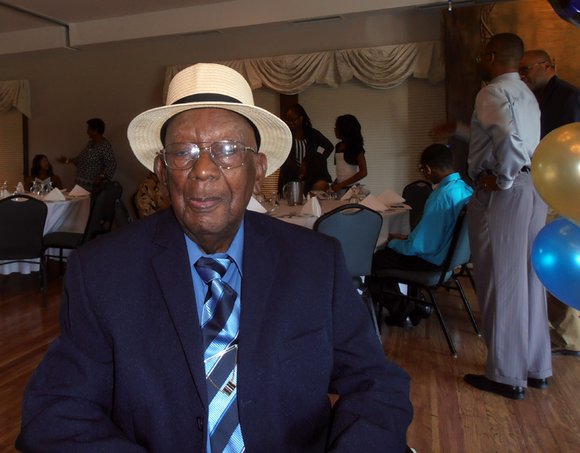 A loaf of bread cost about 6 cents and those "flying machines" had been invented only a little more than 10 years earlier.
Yes, things have come a long way since Vance Heath of Joliet was born in Sunflower, Miss., on Aug. 1, 1913.
Heath, who still walks to the end of his driveway along Pico Street every morning, just celebrated a milestone birthday surrounded by numerous friends and family members.
At 100-years-old, he still has some spring in his step too. As the DJ at the Joliet Country Club played "We are family," Heath pulled himself out of his wheelchair and started dancing.
The only reason he uses a wheelchair is because he tires easily. He drove a car well into his 90s and only stopped after losing his vision, according to family members. While he sees a doctor, he hasn't been hospitalized since he was 98 when he had a hip operation, according to his son-in-law, Bennie Martin.
Heath's nephew, Alex Short ("Shorty") is 85 and recalled bringing a plate of food out to the fields for his Uncle Vance when he was much younger, working on a farm in Mississippi.
Heath and his family would later move from Mississippi to Memphis, Tenn., and then in 1946 he came to Joliet.
Things were not easy, according to Heath, and opportunities for blacks were very limited, yet he persevered. He found jobs in construction, and helped build McCormick Place as well as the First National Bank building in Chicago. He went on to help build the Braidwood plant and also worked at Dresden.
"He always kept a job," Short said.
Heath retired at 65 and since then has been enjoying spending time with his family – five children, 12 grandchildren, 31 great-grandchildren and 17 great-great-grandchildren.
Heath said he eats two meals a day. His wife, Viola, makes him breakfast after his morning walk down the driveway and then he eats dinner.

Asked his secret to living such a long life, Heath had a simple reply.
"Do unto others as you wish for them to do unto you and you'll live a long time," he said.
Heath added tht he never thought he'd live to see 100 years old, and thanks God every day.
Eula Anderson Smith, Heath's youngest daughter from Jackson, Miss., welcomed everyone to the party and thanked them for coming to celebrate with her father. Family members came everywhere from Madison Wis., to Jackson, Miss., "by car, by plane and by train" to celebrate the occasion, according to Smith.
"It is so wonderful to see that he has made such a milestone," Smith said.
She also applauded her father on his dance moves.
"There are not too many 100-year-old men and women who can stand up and dance like he just did a few minutes ago," she said.