Spicy Red Roasted Potatoes
8/6/2013, 4:06 p.m.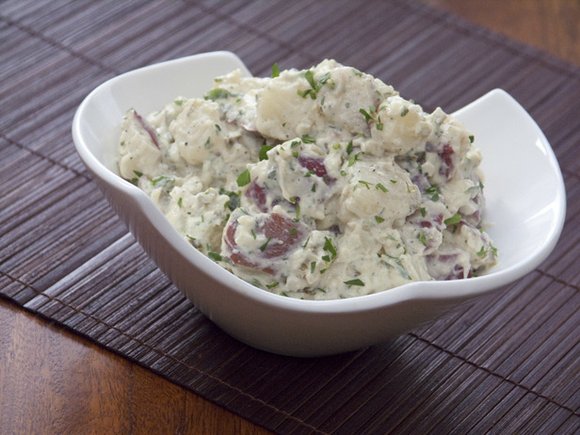 4 servings
INGREDIENTS
3 pounds red bliss potatoes, quartered
1/2 cup olive oil
5 cloves garlic, thinly sliced
2 teaspoons red pepper flakes
2 tablespoons kosher salt
1 teaspoon cracked black pepper
1 teaspoon ground cumin
1/4 cup red wine vinegar
1/2 cup chopped fresh parsley leaves
1/2 cup chopped fresh cilantro leaves
2 tablespoons chopped fresh chives
DIRECTIONS
Preheat oven to 400 degrees F. Put a sheet tray in oven to get hot.
Toss the potatoes in a large bowl with the olive oil, garlic, red pepper flakes, salt, pepper and cumin. Spread potatoes out evenly on the hot half sheet tray. Roast until tender and nicely browned, about 35 minutes. Remove the potatoes from the oven and put them back into the bowl.
Add the vinegar, parsley, cilantro, chives, salt and pepper, to taste. Toss well to combine ingredients evenly. Serve alongside roasted chicken, if desired.