Two Plainfield Runners Race To Lewis
8/7/2013, 2:41 p.m.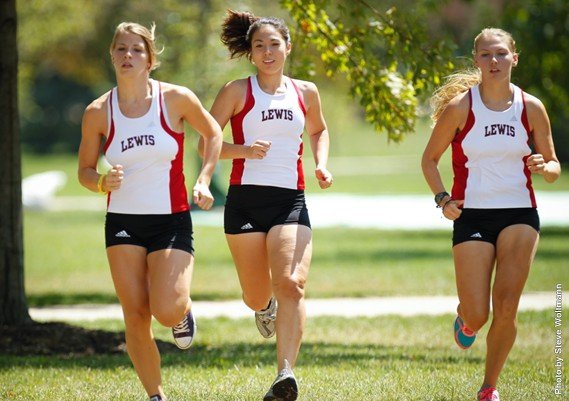 Lewis University head women's cross country coach Dana Schwarting announced that he has inked Emily Vihnanek (Plainfield, Ill./Plainfield Central) and Andrea Holm (Plainfield, Ill./Oswego East) in a recent talent grab that also included six other recruits Megan Burgener, Mollie Dalton, Abby Dodis, Amanda Farrough, Lauren Loomis, and Stephanie Nielsen to National Letters of Intent to run for the Flyers beginning this Fall.
"I'm really excited to start working with this group and add them to the great group of student-athletes that we are bringing back.," Lewis assistant women's cross country coach and recruiting coordinator James Kearney said. "The strength of this class will be on how hard they work and how much they can push one another. "I really think this group can help get us back to a championship level in track and cross country."
Vihnanek is the jack-of-all-trades for this recruiting class as she ran everything from the 4x400 to the 3,200-meter run and even competed in the triple jump for Plainfield Central. As a junior Vihnanek ran a leg of the state-qualifiying 4x800 relay team. Kearney, however, sees her competing primarily in the middle distance events. "I really see her future in the 1,500 and 3,000-meter runs," Kearney said. "She has excellent foot speed and is another student-athlete that could contribute to a future DMR."
Holm can compete in a variety of different races and is a solid runner from the 800-meter run all the way up to the 3,200-meter run. As a junior, Holm was a member of the state qualifying 4x800 relay team. Her PR's include 2:24 (800-meter run), 5:31 (1,600-meter run) and 11:51 (3,200-meter run). "I'm excited to see what (Andrea) can do with some focused (middle distance) training," Kearney said. "I really believe she could be one to watch develop in the next few years."
Burgener played a key role in helping St. Teresa to three consecutive IHSA Class 1A Cross Country Team Championships. As a junior, Burgener placed seventh overall at the state championships, followed by a 15th-place showing as a senior. She is a top middle-distance runner, earning a silver medal in the 1,600-meter run (5:15.94) and a sixth-place finish in the 3,200-meter run (11:30.56) at the 2013 IHSA Class 1A State Track and Field Championships. Dalton was one of the top 1-mile runners in the state of Illinois before succumbing to injury during her senior season. Kearney foresees her competing in many events for track and field, along with the cross country team.
Dodis is a four-year cross country state qualifier for Kaneland and has finished as high as 78th in the state meet. Kearney expects Farrough to make an instant impact upon both the Flyer cross country and track teams. As a senior, Farrough placed 11th overall in the Indiana State Cross Country Championships and represented Team Indiana in the Midwest Meet of Champions, where she finished 17th. She broke school-records at Clay in both the 1,600-meter and 3,200-meter run for track and field.
Loomis won the South Suburban Conference Red Division Individual Championship, helping Shepard to the team title. She used that performance to propel herself to a 66th-place finish at the 2012 IHSA Class 3A State Championships with a school-record time of 17:48. Nielsen had an impressive senior track and field campaign, as she earned second-place finishes in both the 800-meter run (2:19) and 1,600-meter run (5:02) at the Wisconsin State Championships. She also owns the Case school-record in the 1,000-meter run (2:58).
Lewis opens its cross country season on September 13th, as they head to Bourbonnais, to compete in the Illinois Intercollegiate, hosted by Olivet Nazarene. The race is set to begin at 5 PM.