Local teachers get ideas about Electricity Generation and Careers
8/13/2013, 11:22 p.m.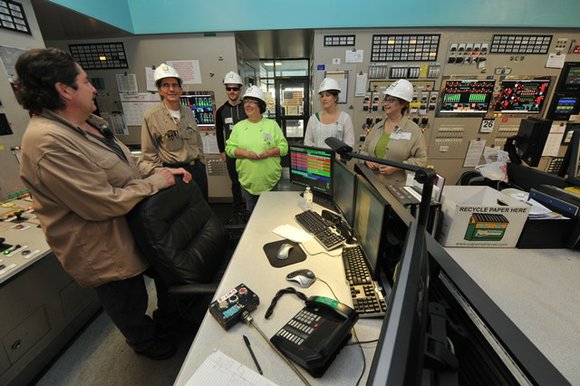 When the new school year begins this fall more than a dozen math and science teachers from six high schools and one middle school in Will County can apply what they learned about power generation technology, the environmental and regulatory requirements for the energy industry, and jobs in the energy field thanks to the Three Rivers Education Partnership (TREP) and Midwest Generation.

Teachers from Joliet East, Joliet West, Joliet Central, Lockport East and Minooka Community high schools, the Grundy Area Vocational Center, and Mason Verona Middle School attended a tour of Midwest Generation's Joliet Station as part of a graduate course developed by the Three Rivers Education Partnership (TREP). The tours showcase STEM (Science, Technology, Engineering, & Mathematics) in the workplace and provide, local and personal examples for teachers to motivate student learning.
"The teachers participated in an informative session on the energy industry at Three Rivers prior to their tour of Joliet Station, which prepared them to ask many questions and have a greater understanding of our work to reduce emissions, manage water, and the skills required to work at a power plant," said Midwest Generation Director of Generation Technical Support Roxanne Richards, who serves as a director for TREPand hosted the teachers. "The most surprising thing we learned from teachers is their difficulty in getting their students interested in technology, despite that being the greatest need now in shaping the future," Richards added

"This was my favorite visit to date," said Leanne Dammann, a teacher at Grundy Area Vocational Center. "It was clear to me that technology has had a huge impact on how the plant has evolved. In the operations room, the operator showed us what they used in the past to monitor all of the plant systems. Those instruments still exist and are operational, but are used only as backup since all of the systems are now automated through computerized monitoring software."
"The teachers rated the site visits as the highlight and most valuable part of the learning experience," said Laura Price, TREP program manager. "Midwest Generation's leveraging of technology and engineering for safety, environmental sustainability, productivity and efficiency made this an outstanding STEM-rich visit. Especially noteworthy is that teachers identified 44 different teaching lessons for either improvement or enrichment as a direct result of the visit at Midwest Generation."
Midwest Generation has more than 400 employees working out of three locations in Will County, including the Will County Station in Romeoville, the Joliet Station and the Bolingbrook office. STEM skills required for many jobs at the plants include electricity, electronics, applied mathematics, chemistry, and engineering (civic, electrical, environmental, mechanical and chemical). The Joliet and Will County stations can generate more than 2,100 megawatts of electricity, enough to meet the needs of approximately 2 million homes.
TREP's mission is to promote partnerships between business and education to prepare today's students for tomorrow's workforce. To learn more about the TREP program visit http://www.trma.org/trep/about_trep.htm.