Back-to-School Bash a hit for kids and parents
Alex Ortiz | 8/14/2013, 9:04 a.m.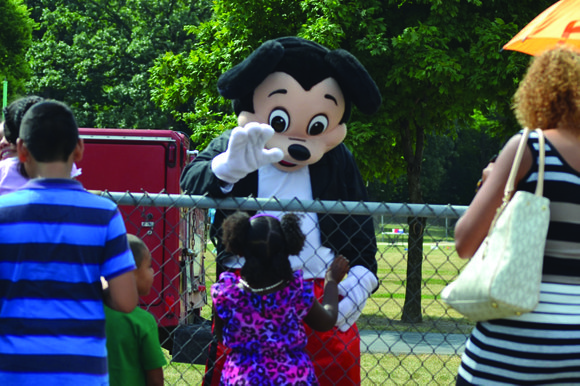 More than 1,200 enthusiastic parents and children came out to the 2013 Back-to-School Bash sponsored by The Times Weekly and Joliet Park District at Nowell Park in Joliet on Saturday.
While the kids enjoyed face painting, a bouncy house, lots of games and spending time with Mickey Mouse and an assortment of television characters, their parents received free backpacks and school supplies for each student in the family.
This was the 2nd annual end of summer Back-to-School Bash for families to come out and enjoy the last of the summer lazy days before school starts. Backpacks, school supplies, food and other surprises were given to families throughout the day.
When Vivian Buchanan read about the Bash in The Times Weekly, she said she made it a point to bring her grandsons, David and Tyler, out for the event.
"I made sure that I kept them today so I could come out here (and) so that the kids could enjoy themselves," she said. "And thanks for the book bags and everything else."
Buchanan and hundreds of other parents received valuable school supplies along with the backpacks. With only a couple of weeks before the school year begins, parents at the event were able to cross off a few items on their child's school list. Families with as many as five children were lined up as early as two hours before the Bash began at 11 a.m. to receive a backpack and supplies. Many of the kids were so excited that they were wearing their backpacks as soon as they received them.
In addition to the stacks of backpacks that were provided, there also was food including hot dogs, popcorn and a lot of games and activities throughout the event.
"There are very interesting programs," Florentino Luna, a father of two, said. "It's incredible."
Sentiments like this were expressed frequently as families were able to save valuable dollars while letting their children have some fun before returning to class.
Even as they stood in line, Mickey Mouse came out and entertained the masses. Dora the Explorer and Spiderman also made appearances taking pictures and interacting with their young fans.
An army of volunteers and organizers handed out the supplies, monitored the games and activities and cooked all the food.