Fab Lab designed to inspire, educate and empower
Mobile tech center shows yet another way to promote STEM skills in Will County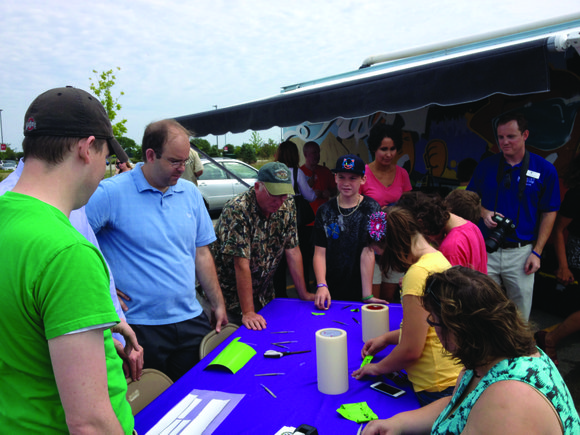 Will County officials had a chance to showcase some new technology while at the same time talk about the need for better training programs aimed at preparing people for manufacturing jobs of the future.
With dismal unemployment rates of 13.5 percent in Joliet 10 percent in Romeoville and more than 9 percent in surrounding communities such as Bolingbrook, Lockport and Plainfield, the Mobile Fabrication Lab's roll into the parking lot of Joliet Junior College represented a beacon a hope for U.S. Rep. Bill Foster (D-Naperville) and other community officials.
Foster was joined by JJC President Debra Daniels, Will County Executive Larry Walsh and others to unveil the mobile fabrication laboratory in which children and adults had a chance to try their hands at inventing, designing and manufacturing products ranging from tools to artwork to robot parts.
Children and adults on Monday lined up outside the mobile laboratory in the college's parking lot to try their hands at the technology. Even Walsh used the lab to design a key chain. The lab allows users to create things using what is essentially a three dimensional printer that creates something the user can imagine and then within minutes can hold in their hands. It combines the use of science, technology, engineering and math (or STEM) skills into one and gives students a powerful tool to imagine and create with.
Foster, a former physicist at Fermilab, introduced the National Fab Lab Network Act of 2013 this past spring to promote advanced manufacturing in the U.S. and to invest in the next generation of entrepreneurs and innovators. His support for the technology is from its wide application in the business world and the fact that it is something that everyone can benefit from.
"It's not just adults who can benefit from Fab Labs," Foster said. "Kids can see the magic in this technology. They imagine the thing that they want to exist in the world and then they take their ideas, they make them real and then can hold them in their hands and take them back to their parents and show them what they can design and build. That's something that kids really miss today."
The 3D printing and other similar technologies, Foster said, empowers kids to go beyond mere imaginings and actually create things. These technologies, he added, are necessary to get young people prepared for a global, 21st century job market.
A.J. Jones, senior pastor of the City of Hope Covenant Church in Bolingbrook couldn't agree more. Jones, along with others from his church, worked with Valley View School District 365U officials to start a mentoring program at Brooks Middle School designed to increase students' STEM skills. The program, known as Youth Higher Opportunity for Potential and Excellence program, introduced culturally diverse students (mainly sixth-graders) to hands-on programs involving science, technology, engineering and math. In one of the programs, for example, the students worked with scientists from Argonne National Laboratory to design electric cars, according to Jones.
"Our philosophy and belief is that church and school partnerships represent the most strategic approach to community transformation," Jones said. "These two institutions bring communities and people together more than anything else and offer the most holistic opportunity to create change and improvement in our communities."
Jones applauded Foster for bringing the Fab Lab to Will County and helping to inspire students.
A former Information Technology professional, Jones said last year was the first year of the Youth HOPE program and teachers reported that the students involved in the program improved not only academically, but socially as well. He added that he looks forward to continuing the program in the upcoming school year.
Rodney Tonelli, president of Ruettiger, Tonelli & Associates in Shorewood, was at Monday's event representing the Will County Center for Economic Development.
Will County, Tonelli said, has a long and storied history of manufacturing. Currently, however, many a number of employers in the county are struggling to find workers to fill the jobs that require advanced skills and superior technology training, he added.
"The presence of the Fab Lab at Joliet Junior College this week aligns very well with two of the major objectives we have at the Will County Center for Economic Development – to expand the number of advanced manufacturing jobs in the county and to foster the development of the workforce skills needed to fill those jobs," Tonelli said.