HAJ board meeting cancelled after staff fails to give proper public notice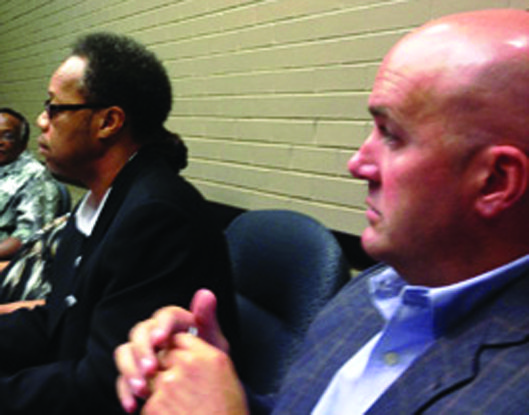 A meeting of the Housing Authority of Joliet board had to be cancelled Thursday afternoon after the HAJ's staff failed to give proper public notice.
The board had planned to meet at 4:30 p.m., Aug. 8, but shortly after five of HAJ board members arrived, the board's attorney Eric Hanson announced that the meeting had to be cancelled because it wasn't posted properly.
HAJ board members had planned to meet on the issue regarding the HAJ's Chief Financial Officer Charlene Potts arrest by Cook County investigators Tuesday afternoon for allegedly embezzling money from the Chicago Housing Authority in 2005 and 2008.
As the meeting was about to get underway, Hanson advised the board to cancel the meeting after learning that the staff had not given proper public notice. Had the meeting been held, it would have been in violation of the Illinois Open Meetings Act.
Hanson and the HAJ's interim Chief Executive Officer Michael Simelton then met with the board members two at a time privately.
HAJ board members present included Ralph Bias, Karen Williams, Mittchelena Meade, Roger Powell Sr. and Lorraine Guerrero.
Joliet City Councilman Jim McFarland, Councilman Larry Hug, Councilman Bob O'Dekirk, Councilwoman Jan Quillman and Councilman Terry Morris also showed up expecting there to be a meeting.
"I'm really disappointed that such an important meeting had to be cancelled because of lack of attention to detail," Hug said. "I'm sure they'll be rescheduling a meeting and I will be attending." "The first thing the HAJ board needs to address is the personnel issue in relation to the arrest, but the bigger picture is the HAJ's finances, he said.
"I'd really like to see an independent outside audit performed," Hug continued. "I'm sure they're doing an internal audit, but an internal audit is not good enough. I'm sure the Chicago Housing Authority did an internal audit when this alleged embezzlement occurred. We need an independent audit so we can look at the facts. After all, the accused was solely responsible for the HAJ's finances."
While working for the CHA, Potts allegedly wrote checks to a bogus company and her estranged husband (who also was arrested) was cashing them. Simelton said Potts was terminated from her position with HAJ on Aug. 6, the day of her arrest.