Local filmmaker's movie to open in New Lenox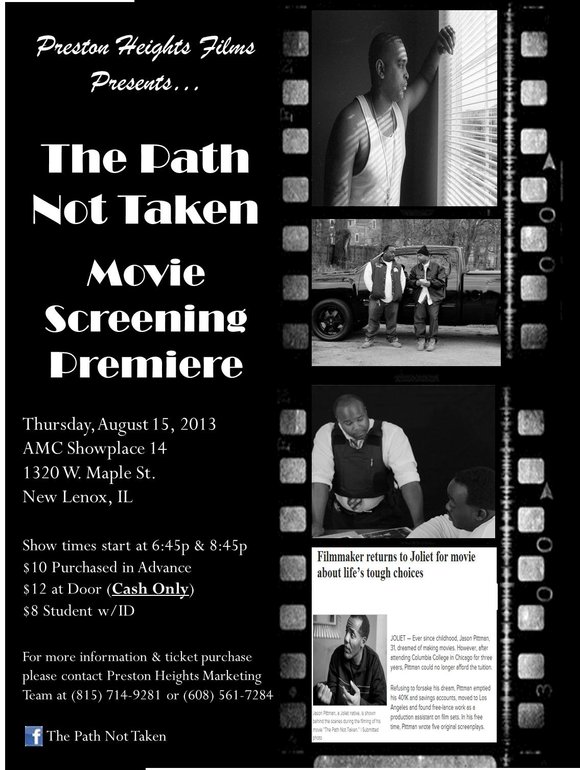 The choices you make, good and bad, have an impact on your life.
That's the overarching theme of the locally shot independent film "The Path not Taken."
The movie was shot in Joliet by local filmmaker Jason Pittman working under the nom de film Preston Heights—an homage to the neighborhood the 32-year old director grew up in and where he first dreamed of a career making movies.
Pittman said he took the stage name as a reminder of where he came from when he was working in Los Angeles toiling in freelance jobs as a production assistant.
"I use the name to remind me of my journey," he said recently as he prepared for a screening of his film in New Lenox on Thursday night. He feels the neighborhood has come to serve as an inspiration for him to keep striving for his dream.
"I feel like I have pressed on to different heights," he said.
Pittman attended Columbia College in Chicago for a few years before dropping out when the financial burden to pay for the tuition became too much. He didn't give up on pursuing film making though.
"It didn't stop me from continuing with my dream," he said.
After working at a call center in Arizona for a time, Pittman worked his way west to Hollywood where he found work on area movie productions.
In his spare time while working in L.A. he found time to write screenplays, five in total.
One of those scripts was set in his hometown of Joliet, and after losing a job at a call center he decided to cash in his 401k savings to bank roll the independent production.
"I've always had a passion for it," he said of making movies.
He decided to film in Joliet to take advantage of the authenticity of the locale and also to take advantage of the wealth of talent in and around the area. Most of the film's production crew and actors hail from the area he said.
"It's really about the community," he said.
Shot on a micro-budget for about $2500, Pittman said that he's taken a grassroots approach to getting the word out about the film, hosting showings around the Chicago land area and places as far as Kankakee and Atlanta.
"Wherever I can get the biggest buzz and support," he said, though he remains rooted to the area despite his stints in California.
Thursday's showing of "The Path not Taken," which is on the date of 8/15 is in fact a reference to the Joliet area code, 815, he noted.
"I'm getting a lot of positive feedback from the community," he said.
Pittman's current project is a documentary about the real life Preston Heights neighborhood and the people that inspired the characters in his fictional film. He's also beginning to look for a distributor that will get his movie out via DVD. After that, he still has 5 un-filmed screenplays he has to find a way to make.
"I'm hoping this will help open the door to doing even bigger things," he said.
The Path not Taken is showing Thursday at 6:45 and 8:45 at AMC Showplace 14 in New Lenox, 1320 W. Maple. A preview of the film can be found online at youtube.com.