Forest Whitaker and Oprah Winfrey in 'The Butler.'
Dwight Brown | 8/16/2013, midnight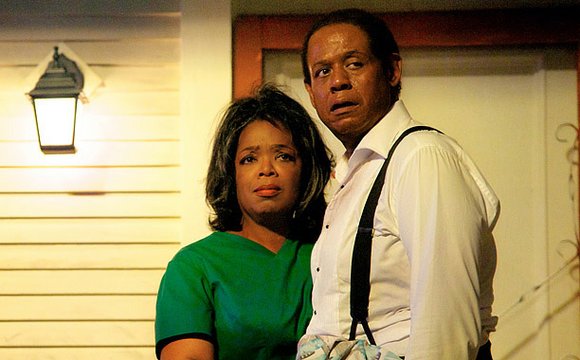 The Butler
By Dwight Brown
Film Critic
It's about time. Finally a major-release film about the African American struggle for equality, told from a Black man's perspective. Why has it taken Hollywood (aka the film industry) so long to do the right thing?
Eugene Allen served eight presidents, Truman to Reagan, over 36 years in various positions at the White House. However, it is his role as a butler that made him the subject of a Washington Post article in 2008, "A Butler Well Served by This Election," and brought him notoriety. That article and his life, from the days of segregation, through the Civil Rights Movement, War in Viet Nam and end of apartheid, became the basis for this evocative film that intelligently pays homage to Allen and Black American history. Lee Daniel's The Butler is a momentous accomplishment. A milestone.
Cecil Gaines grew up in Macon, Ga., picking cotton with his father in the 1920s. After his dad was killed, he worked in a home on a plantation as a servant. As a young adult, Cecil (Forest Whitaker) parlayed his service skills into a job at a swank Washington, D.C. hotel, where his ability to be apolitical and verbally spar with rich White men got him noticed by an official at the White House. He and his wife Gloria (Oprah Winfrey) were pleasantly surprised when he got a job at 1600 Pennsylvania Avenue. There, he slowly grew up the ranks, becoming a head butler who worked directly with the leaders of the government.
Cecile and Gloria had two sons. Louis (David Oyelowo, Red Tails), the rebellious one, and his younger brother Charlie (Elijah Kelly) reaped the benefits of a stable middle class life. They grew up in a nice environment, surrounded by nurturing friends and family members. When Louis went off to Fisk University, it was inevitable that he would rebel against his apolitical father and become an ardent civil rights advocate. He met and fell in love with Carol (Yaya Alafia, Mother of George), and the two, through sit-ins and civil disobedience, sought an end to Jim Crow laws and segregation.
Cecil was mortified to learn of his son's endeavors. Meanwhile at the White House, he was setting tables, serving martinis and making small talk with Eisenhower (Robin Williams), JFK (James Marsden), Jackie Kennedy (Minka Kelly), Lyndon B. Johnson (Liev Schreiber) and Nixon (John Cusack). Rarely did the conversations with the leaders of the free world touch on politics, but when they did Cecil's instincts were to avoid confrontation.
Upstairs, the presidents and their White male staff members made far-reaching decisions on civil rights, wars and world events. Downstairs, the mostly Black maids, kitchen staff, doormen and butlers formed a camaraderie. Cecil was a friend to co-workers James Holloway (Lenny Kravitz) and Carter Wilson (Cuba Gooding Jr.). Cecil's attention to duty, and not to his wife, led Gloria to booze and another man's (Terrence Howard) arms.
Danny Strong, from just an essence of truth, has written an ambitious screenplay that charts the course of politics, as it relates to the African American community, in the 20th and 21st centuries – specifically through the dissimilar eyes of a complacent, aging man and his rebellious son.