Expansion of corporate center in Shorewood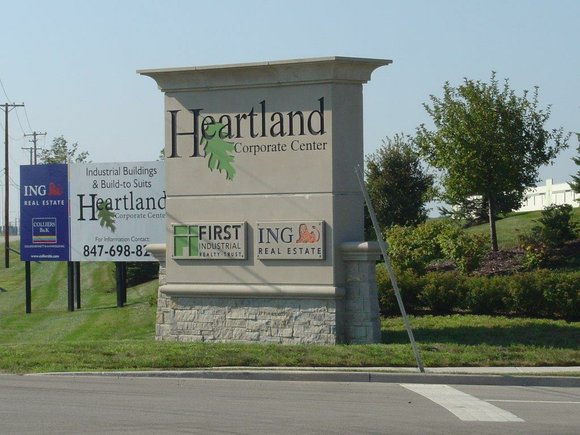 The Heartland Corporate Center in Shorewood is growing.
Village trustees approved a plan to add a new 750,000 square foot structure to the site which is located near the corner of Mound and Frontage Roads.
The new building will join a 1 million square foot facility already located at the site which houses the warehouse and distribution operations for Fonterra Foods, which moved in 2010. Earlier this year bake ware manufacturer Wilton opened a distribution operation located in the phase 1 building as well.
The warehouse at 21228 Frontage Road, and west of I-55, was completed in 2007 and had been vacant for two years before Fonterra Foods signed their 5-year lease for the site.
The new facility will be part of a phase 2 which trustees noted would incorporate a lower profile elevation as well as softer color palate to cushion the impact on the neighboring subdivision. A berm with plantings was installed to shield the site from neighbors when phase 1 was completed in 2007.
The new building's design was called "a very good fit" by trustee Steve Brockman who chairs the planning and zoning committee. The facility will also incorporate more daylight windows for the warehouse, and will have easier access for employees commuting to the site.
A smaller approximately 500,000 square foot building is also planned for the site at a future date.
Work to prepare the ground will begin in October with a planned completion of mid-2014.
Shorewood Mayor Rick Chapman said that he hoped that the changes in the building elevation will alleviate the concerns of neighbors who will be living nearby.
"They should be as pleased as possible," said Chapman.
Contact me with Plainfield and Shorewood area news at bralst1@gmail.com, or on Twitter @brockastein.