After school nutrition and activities improve educational success
8/23/2013, 4:23 p.m.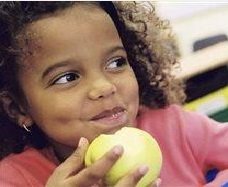 3: Limit sweet drinks
When it comes to what children drink, sweet soft drinks and juices are high in calories and sugar and are typically low in nutrition. Water is the best way to hydrate, but who says water can't be fun to drink, too? Liven up your kids' drinks with fresh sliced oranges, lemons or limes for a colorful splash of healthy flavor. Remember, dehydration can impair memory and make it difficult to pay attention, so make sure your student drinks H2O to stay focused. [Source: Psychology Today]
4: Limit screen time
While a little TV or time on the computer can be enjoyable for kids (and a welcome break for adults), we all want our kids to appreciate being active. Start the school year with clear rules about how much screen time is allowed each day. For example, if you allow one hour of screen time after school is out, your child knows that she has 60 minutes to divide between playing online and watching her favorite TV show before bed.
5: Encourage physical play
It's important for parents to encourage and participate in active play. Whether it's joining an organized youth team or simply hosting play groups at a local park for a few rounds of tag, parents need to make sure kids understand physical activity is a priority. Don't forget to lead by example; take walks with your children and get outdoors and help them explore Mother Nature.
For more information on the Y after school activities and more healthy tips, visit www.ymca.net.