Heritage Corridor CVB nominates Started Rock State Park for '8th Wonder of the World'
8/23/2013, 8:45 a.m.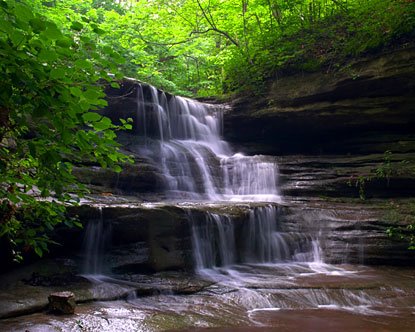 Heritage Corridor Convention and Visitors Bureau (CVB) on Thursday entered Starved Rock State Park into VirtualTourist.com's quest to crown the "8th Wonder of the World." Public voting is now open at VirtualTourist.com, a leading travel research website and community that is part of TripAdvisor Media Group.
Recently designated as Illinois Fan Favorite in contest held on Facebook and as one of the 7 Wonders of Illinois, Starved Rock State Park gets approximately three million visitors a year. The park has 13 miles of trails to explore, plus, the Illinois River offers fishing (ice fishing, too), boating, extraordinary views and great places to relax. A nature lover's paradise, Starved Rock State Park is home to many wildlife species including bald eagles and owls. Plan your getaway at Starved Rock Lodge located inside the park. Enjoy the rustic charm of the 100 year old facility as you sit on the Veranda overlooking the park and take in the breathtaking scenery. Whether you are an outdoor enthusiast and come to hike the trails or just want to relax by the fireplace in the Great Room of the Lodge, Starved Rock State Park is a little bit of paradise in the Midwest.
"When people ask what area the Heritage Corridor CVB represents, the overwhelming majority responds that he/she has visited Starved Rock State Park and has stories to tell about their stay," said Mary Beth DeGrush, Vice President of the Heritage Corridor CVB. "You can tell by the way their face light up as they tell their story that it was a memorable experience. Starved Rock State Park was the natural choice for our nomination."
With numerous Tourism Boards, Chambers of Commerce and Visitor Bureaus sending in a nomination, the public is asked to vote for their favorite out of the more than 300 submissions. Voters can visit www.virtualtourist.com to vote for landmark and have until September 30 to do so. The wonder with the most votes will be crowned the winner. The winner will be featured in a national broadcast TV segment on a popular syndicated program as well as receive a massive media relations campaign push from VirtualTourist.
"It's wonderful to have a nomination from every corner of the world so we are thrilled to receive Starved Rock State Park as a nomination from Heritage Corridor CVB," said Giampiero Ambrosi, General Manager of VirtualTourist.com. "As one of the best travel guide resources on the web, members and visitors to our site have been to almost every country in the world. We are eager to see which landmark they will choose to be crowned the 8th Wonder of the World."
To vote for Starved Rock State Park for 8th Wonder of the World, visit www.virtualtourist.com.