Kelley announces plans to run for Will County Sheriff
Veteran officer to face two others in the Democratic Primary election
By Rex Robinson | 8/23/2013, 8:18 a.m. | Updated on 8/27/2013, 3:23 p.m.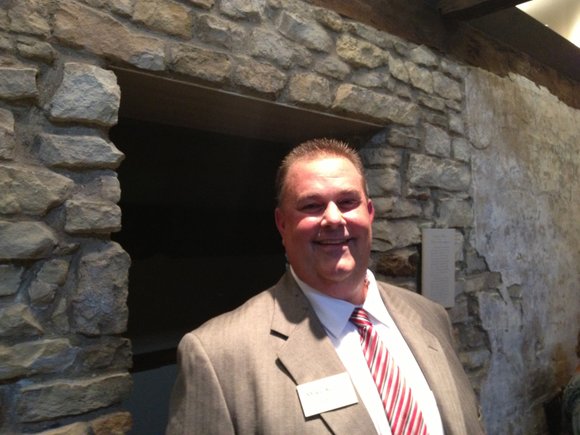 Will County Democrats are confident in the candidate who has decided to run for Sheriff next year.
Surrounded by the county's top Democratic party leaders Thursday, Mike Kelley, a 25-year veteran with the Will County Sheriff's Department and a lifelong resident of Lockport, announced his candidacy for Sheriff in the November 2014 election. Kelley made his announcement at the Public Landing Restaurant in Lockport.
"I've seen this department in the last couple of years stand still," Kelley, 46, said. "Money is always an issue. You can cut jobs, but when you're jeopardizing the citizens of Will County that's where you've got to draw the line."
Kelley will face two others in the March Democratic election. They include Ed Bradley, who retired as a lieutenant with the department in January 2009 and Will County Sheriff's Department Lt. Steve Egan. In 2010, Egan ran as a Republican against current Will County Sheriff Paul Kaupas, also a Republican.
Kaupas has opted not to seek another term in office. His second cousin, Ken Kaupas, however, has thrown his hat into the ring as GOP contender for the top cop job as has Nick Ficarello, a Republican and a veteran retired Will County Sheriff's officer who served from 1978 to 2009.
A Democrat has not held the Sheriff's spot in Will County since the early 1990s. Tom Fitzgerald, the last Democrat to have the job, served as Sheriff from 1990 to 1994.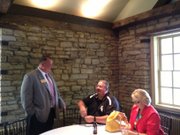 A number of top Democratic leaders gathered for Kelley's announcement Thursday. Everyone from Will County State's Attorney James Glasgow and Will County Executive Larry Walsh Sr., to Illinois State Sen. Pat McGuire, State Rep. Larry Walsh Jr., State Rep. Natalie Manley, State Sen. Jennifer Bertino-Tarrant and State Rep. Emily McAsey. Also on hand was Kelley's chief campaign manager, Will County Coroner Pat O'Neil. A number of Will County Sheriff officers and various friends and family members also were on hand for the announcement.
"I' like my chances," Kelley said. "I have a tremendous amount of support."
A sergeant with the department since 2007, Kelley is currently serving as a Lockport Township Board trustee and also served on the Lockport City Council.
"I think Mike Kelly makes an excellent candidate for Will County Sheriff," Larry Walsh Sr., said, adding that Kelley has the support and backing from many officers in the department. "His understanding of the duties and responsibilities is going to play a major role for him."
Glasgow said he has known Kelley for 25 to 30 years. "He's a standup guy and he's got the character and experience to the sheriff of Will County."
One of Kelley's major priorities if elected is to work on reducing the heroin deaths in the county. In 2011, there were more than 50 deaths from heroin overdoses in Will County. He said he said much of the heroin is coming into Will County through Cook County and he said he would work with the Cook County Sheriff on a plan to address the problem.
He also would change the shifts of officers from 8 hours to 10 or 12 hours. That way, Kelley said, there would be more officers on the street as a result of the way the shift changes would occur with the longer hours. It's also something many officers with the department want, Kelley said.
One other issue Kelley would make a priority is how evidence is handled. Currently, he said, evidence is kept in four different locations. If elected, he said he would work on a plan to keep all the evidence in one location.