Silver Cross scholarship granted to Forest Park Community Center
8/23/2013, 5:27 p.m.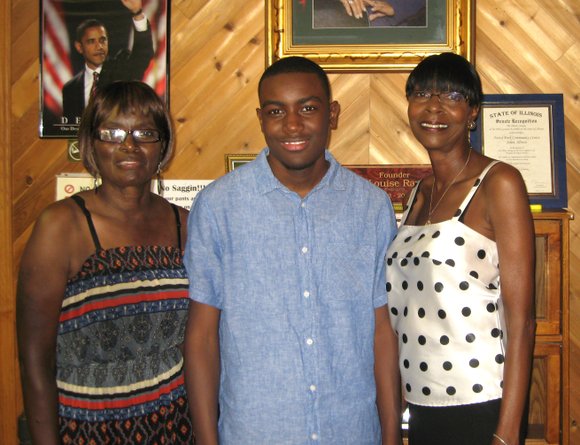 With the help from a grant received from the Silver Cross Healthy Community Commission, the Forest Park Community Center awarded a $1,000 scholarship to Dariyon Woods. Woods will be attending Northern Illinois University this fall and is also a graduate of Joliet West High School.
"The Forest Park Community Center is grateful to the Silver Cross Healthy Community
Commission for the scholarship grant," said Bettye Gavin, executive director of the Forest Park Community Center. "Providing scholarships allows area students to enhance their lives through higher education which empowers them to eventually give back to the community."
The Forest Park Community Center awards scholarships to students who demonstrate good grades and community service. With the help of Silver Cross' Healthy Community Commission, they are able to grant new scholarships to deserving individuals. Scholarship recipients must live within the zip codes 60432, 60433 and 60436.
The purpose of Silver Cross's Healthy Community Commission (HCC) is essentially to coordinate and enhance existing programs for workforce development, education and business growth with a focus on health care and construction. One of the not-for-profit organization's main goals is to create a stronger, healthier future for Joliet.
The Forest Park Community Center is dedicated to serving the families of the Forest Park community to enrich their lives through education and empowerment, to establish a safer environment that will promote an enhanced quality of life. Through a professional staff and community based programming the transformation of the Forest Park area has been and will continue to be the focus. Prided on making a positive and influential impact on the once unsafe poverty stricken area better known as "The Hill," the Forest Park Community Center is the pillar of light to a once desolate area. The Forest Park Community Center was established in 1994 and is located at 1017 Woodruff Road in Joliet. For more information about the Forest Park Community Center call (815) 727-7898 or visit www.forestparkcommunitycenter.com.
Silver Cross Hospital is a not-for-profit health care provider serving Will County and southwest suburban communities since 1895. Silver Cross has been recognized as a Thomson Reuters 100 Top Hospitals National Award winner for seven consecutive years and as a Hospital of Choice by the American Alliance of Healthcare Providers. With more than 3,000 employees, physicians and volunteers, Silver Cross operates a 289-bed acute care hospital and 9 satellite facilities providing outpatient services and physician offices. Silver Cross opened a state-of-the-art replacement hospital on Feb.26, 2012 at I-355 and Route 6 in New Lenox. To learn more about Silver
Cross Hospital or a referral to a physician on staff, visit http://www.silvercross.org or call (888) 660-(4325).