Chile-Rubbed Grilled Chicken With Salsa
8/27/2013, 10:25 a.m.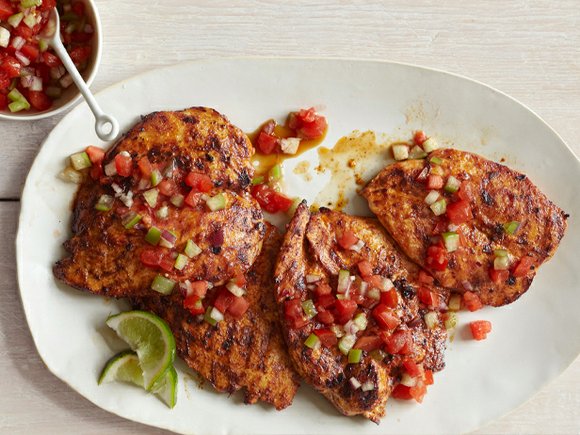 4 servings
INGREDIENTS
4 skinless, boneless chicken breasts (about 2 1/4 pounds)
1 tablespoon extra-virgin olive oil, plus more for brushing
1 small clove garlic, finely grated
1 1/2 teaspoons ancho chile powder
1 1/2 teaspoons ground cumin
1 1/2 teaspoons ground coriander
1 teaspoon paprika
1/4 to 1/2 teaspoon chipotle chile powder
4 teaspoons fresh lime juice, plus lime wedges for serving
Kosher salt
2 tomatoes, diced
3 tomatillos, husked, rinsed and diced
1/4 cup finely diced red onion
DIRECTIONS
Butterfly the chicken: Slice each breast almost in half horizontally (do not cut all the way through); open like a book so the chicken lies flat.
Combine the olive oil, garlic, ancho chile powder, cumin, coriander, paprika, chipotle chile powder, 1 teaspoon lime juice and 1 1/4 teaspoons salt in a large bowl. Add the chicken and turn to coat. Cover and refrigerate at least 30 minutes and up to 2 hours.
Preheat a grill to medium. Meanwhile, make the salsa: Toss the tomatoes, tomatillos, red onion and the remaining 3 teaspoons lime juice in a bowl; season with salt. Cover and refrigerate until ready to serve.
Brush the grill grates with olive oil. Grill the chicken, turning once, until marked and just cooked through, 4 to 6 minutes per side. Top with the salsa and serve with the lime wedges.