Benton appointed Chief of Police in Joliet
By Rex Robinson | 8/28/2013, 1:38 p.m.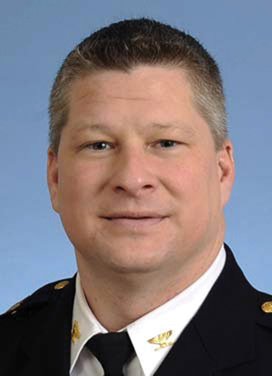 Joliet Police Cmdr. Brian Benton has been promoted to be the city's next police chief.
City Manager Tom Thanas on Wednesday confirmed Benton's appointment to the position. He succeeds former Chief Michael Trafton, who announced in July his plans to retire after serving 28 years with the department.
"The selection of a new police chief was made from three well qualified commanders in the Joliet Police Department," Thanas said. "Chief Benton's knowledge, experience, and leadership skills convinced me that he was ready for the challenge of leading our Police Department in protecting the residents of Joliet. Chief Benton will join a long line of outstanding police chiefs who have risen through the ranks … to lead the department."

Benton's appointment begins immediately, according to Thanas.
"I am honored to serve the residents of Joliet as Chief of Police," Benton said. "I believe in the importance of working with the community to ensure the safety of our community and I look forward to leading the fine men and women of the Joliet Police Department toward this goal."
Joliet City Councilman John Gerl, chairman of the public safety committee, on Wednesday commended Thanas of his appointment of Benton as the city's next police chief.
"I think Brian's going to make an excellent police chief for the city of Joliet. He's had a 22-year career with the Joliet Police Department and this is a natural progression for him," Gerl said.
"I've come to know him personally over the last few years and Brian is a quality guy. Brian also is following in the footsteps of a very competent and popular police chief in Mike Trafton and I believe Brian is more than capable of taking on the responsibilities of being the next top cop in Joliet."
Benton began his career as a police officer with the Joliet Police Department in 1990. He was promoted to the rank of sergeant in 2000, lieutenant in 2006, and Division Commander in 2008.
He has had various assignments throughout his career. Benton served as a Neighborhood-Oriented Policing officer, Tactical Officer, undercover Narcotics Investigator, Patrol Supervisor, Watch Commander and Narcotics and Tactical Unit Supervisor. He has served as a team member since 1993 and is currently the Commander of the Department's Special Operations Squad (SWAT) Team. He also served as the Department's Rangemaster until recently.
Benton earned his Bachelor of Arts Degree in Criminal/Social Justice with highest honors in 1998 and his Master's Degree in Public Safety Administration in 2009 both from Lewis University. He has attended various police-related managerial training including the Police Executive Research Forum's Senior Management Institute of Police (Boston University in 2006), Northwestern University's Center for Public Safety School of Police Staff and Command (2003), and Critical Incident Command for Supervisors (2004).

He has received various honors and awards throughout his career. While working as an undercover narcotics agent, Benton received the Illinois MEG Directors Award each year from 1997 to 2000 for outstanding efforts dismantling major drug trafficking organizations. He has also received multiple Awards of Merit for overseeing a federal drug investigation in 2000 and for the implementation of the Department's Patrol Rifle Program in 2008.