Abandoned church in Joliet to be demolished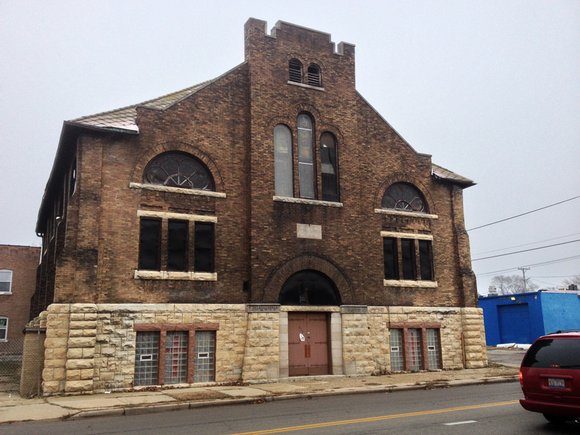 An abandoned church in Joliet that is literally falling apart could meet with a wrecking ball as early as Wednesday morning, according to city officials.
A demolition crew is preparing to demolish the Church of the Living God at 353 E. Jackson St. The church has been vacant for more than a year and has become a hazard to nearby structures, including a residential garage to the north and a bakery to the east, Joliet City Manager Jim Hock said Monday.
The city is spending $68,667 to demolish the church and plans to place a lien on the property, however there is not much hope in recouping the cost of the demolition, Hock said, adding that the property will later be sold for commercial use.
Hock said the chimney fell off about a year ago and struck the nearby residential garage and damaged it.
"It's an emergency situation," he said.
There are some stained glass windows which an architectural professional for the city valued at about $100 each. However, due the structure's instability it is too dangerous to go in and try to remove the window, according to Hock.
"Having anyone to go inside and try to salvage anything is just too risky," he said.
Joliet resident Paul Boley, however, is hoping city officials give him a chance to purchase some of the fixture, pews and maybe even the stained glass windows.
Boley said he know the church is "critically unsafe" and way past the point of saving. He stood out in front of the church Tuesday morning, pointed to the roof and explained how it is starting to bow and push the walls out.
Boley understands the time to get any artifacts out of the building is fading fast.
"Once it's gone, it's gone," he said.
Nina Mingo, who lives near the church, said she would like to see it saved.
"A church shouldn't have to be torn down," Mingo said.
The city this past June got a court order to demolish the building. It became so dangerous that people were being strongly discouraged to use the sidewalk in front of the church, city officials said.
City Councilwoman Jan Quillman said a preservationist and resident had contacted her early Monday morning after seeing demolition crews outside the church. The resident wanted to know why the city wasn't trying to preserve the church.
"It's a shame that this building wasn't taken care of… but it's became a safety hazard and liability to Joliet to have anyone go in there," Quillman said.
She asked Hock to put photos of the deteriorating building on the city's website so people can see that the city has no other option but to demolish the church.
Rex Robinson can be reached at rex@thetimesweekly.com.