Dickens' classic tale comes to Goodman for the holidays
12/4/2013, 4:26 p.m.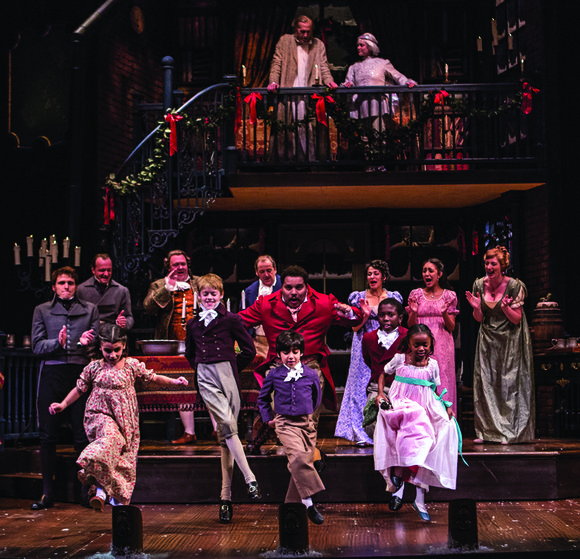 A stripped-down, streamlined production by Goodman Theatre of Charles Dickens' classic "A Christmas Carol" uses a stripped-down, no nonsense approach to bring home the message of the true meaning behind all of the artificial Holiday cheer in a big way. At times utilizing only the stark backdrop of a black curtain and highly effective lighting and sound design, first-time "Carol" director Henry Wishcamper hits it out of the park with a powerful production.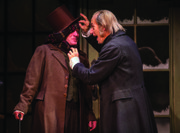 "A Christmas Carol," now in its 36th annual run, is a local holiday tradition, with some audience members bringing their children and grandchildren to experience for the first time, the beloved production which they themselves experienced at an earlier age. Goodman Executive Director Roche Schulfer established the play as an annual Goodman offering in 1977. There are only a handful of other regional theatre companies who have performed it longer.
Wishcamper carefully interweaves the skills of both veteran and freshman actors to create a "Carol" that delivers a sucker punch of heart-rending power within the framework of a story in which Dickens all-too familiar words, as adapted by Tom CreamerLarry, resonate with the ring of truth. Veteran Chicago favorite Larry Yando returns for the fifth time as Scrooge and gets us settled in to character of the miserly old curmudgeon like someone slipping into his favorite easy chair.

There's one exception, his all too familiar bed-chamber is this time thrust stage center and right in the audience's face. They are taken along on Scrooge's whirlwind ride into Christmases past, present a future on a breathtaking ride punctuated by dazzling use of special effects accompanied by some brilliant acting.
There are noteworthy performances throughout. Goodman is also to be applauded for its liberal use of color-blind casting, which proves that the skill of the actor is all that counts in conveying a convincing portrayal. All of the actors involved live up to that credo and beyond. Many of the key roles are played by African-Americans in this story, which is decidedly Euro-centric, most notably the key role of Mrs. Cratchit, brought front and center in a riveting performance by Goodman and Carol veteran Penelope Walker, celebrating her 10th anniversary with the production.
She is every bit the dutiful wife and helpmate to the Scrooge's footstool Bob Cratchit, played with disarming wit by Goodman regular Ron Rains until the very mention of Scrooge's name sends her into a rage that burns with an intensity that is made even more palpable by her simmering rage. A.C. Smith opens the second act with a masterful flourish as he delivers his lines as the Ghost of Christmas Present with almost Shakespearean authority.
The audience is quickly brought into the spirit of the holiday with the high stepping dance scene in the party at Fezziwig's warehouse. Whirling, swirling dancers, particularly the delightful children, and the terrific on stage orchestra, assembled by Jeff Award-winning Musical Director and on-stage Musician Malcolm Ruhl.
Poignant scenes enrich the production as Scrooge makes his transformation to redemption. Particular among them are the scene in which the relationship between Young Scrooge (Chicago Shakespeare Theatre regular Robert Hope) and first love Belle (returning Godman actress Atra Asdou) unravels, an event at the heart of Scrooge's continuing unhappiness. In another scene, when confronted by the apparitions of Ignorance and Poverty, Scrooge's very own words are thrown back into his face by a disdainful Ghost of Christmas Future ("....are there no more prisons.....Are there no workhouses?"