Parmesan-White Bean Dip
12/4/2013, 3:07 p.m.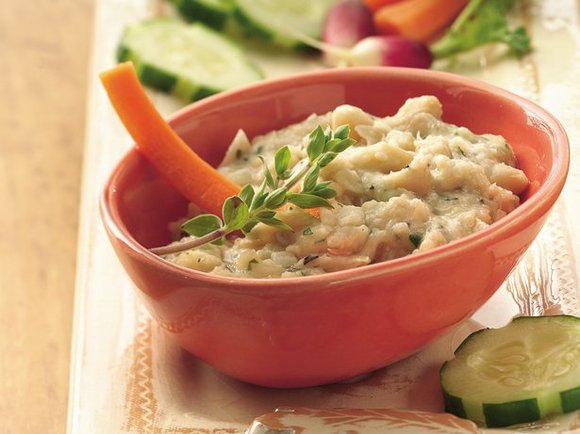 Ingredients
1 tablespoon olive or canola oil
2 cloves garlic, finely chopped
2 teaspoons chopped fresh or 1 teaspoon dried thyme leaves
1 can (19 oz) cannellini beans, drained, rinsed
1/3 to 1/2 cup chicken broth (from 32-oz carton) or white wine
2 tablespoons chopped fresh Italian (flat-leaf) parsley
1 cup shredded Parmesan cheese (3 3/4 oz)
7 dozen carrot sticks, if desired
Directions
In heavy 2-quart saucepan, heat oil over medium heat. Add garlic and thyme; cook 1 to 2 minutes, stirring constantly, until garlic is light golden. Remove from heat.
Add beans and broth to saucepan. Partially mash beans with potato masher. Stir in parsley. Heat over medium-low heat, stirring occasionally, until bean mixture is thoroughly heated. Stir in cheese until melted. Serve warm with carrot sticks.