SNAP reductions impact local families
Area center offers a way for many to stretch the food budget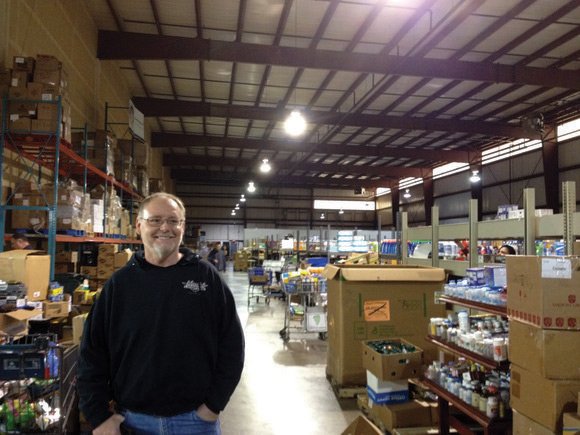 Families who in part rely on federal funding to feed their children are already feeling the pinch from last month's reduction in those benefits.
Eric Lindgren, of Lockport, is a single father of four and relied heavily on the $300 he had received each month from the Supplemental Nutrition Assistance Program (SNAP), but after the cut he estimates he is now receiving about $250 or less.
Lindgren works at the Joliet Hope Center, a Christian-based ministry that offers food and other items at greatly reduced prices. He also is a member of the center and shops there for groceries for his family.
According to the Center on Budget and Policy Priorities, the 2009 Recovery Act's temporary boost to SNAP benefits ended Nov. 1, resulting in a benefit cut for every SNAP household. For families of three, the cut amounts to $29 a month – a total of $319 for November 2013 through September 2014, the remaining months of fiscal year 2014. That's a serious loss, especially in light of the very low amount of basic SNAP benefits. Without the Recovery Act's boost, SNAP benefits will now average less than $1.40 per person per meal in 2014. Nationally, the total cut is estimated to be $5 billion in fiscal year 2014.
Amy Imbo, of Joliet, and her husband, Anthony, know all too well what it's like to live on a fixed income. They have nine children, and one grandchild and Anthony, who suffers from diabetes complications, is out of work. Stretching each dollar they get is essential to keeping the family above water.
She shops regularly at the Joliet Hope Center, at 511 Oakleaf Court. The center is located within an industrial park off of McDonough and Hammes.
Imbo had a cart loaded with groceries while shopping at the center on Tuesday.
"I've been coming here since April. This place saves us at least $500 per month on groceries," she said.
Families and individuals pay an annual $5 fee to shop at the Joliet Hope Center. Everything is priced much lower than even discounted warehouse stores. For example, a box of cereal which could cost more than $4 at a grocery store is about $1.50 at the center.
The center has seen a huge spike in the number of members since opening this past March. When it first opened it had 223 members and now has 3,900, according to spokeswoman Linda Lasota.
Woodie Stiltner Jr., founder of the Joliet Hope Center and the Hands of Hope Center, which supplies free food to more than 25 area churches each month, said the Hope Center needs to get to about 7,500 members to break even. While most of the food is donated from a variety of places, such as Kehe Foods in Romeoville, there are expenses associated with the warehouse where the Hope Center and Hands of Hope is located, Stiltner said.
Stiltner is not surprised to see such a big jump in members in just nine months and said he knows there are many families out there who continue to struggle financially. The reduction in the SNAP benefits, he added, also is going to result in more people needing to shop at the Hope Center.