Bolingbrook students send greetings to students throughout the U.S.
12/6/2013, 8:07 a.m.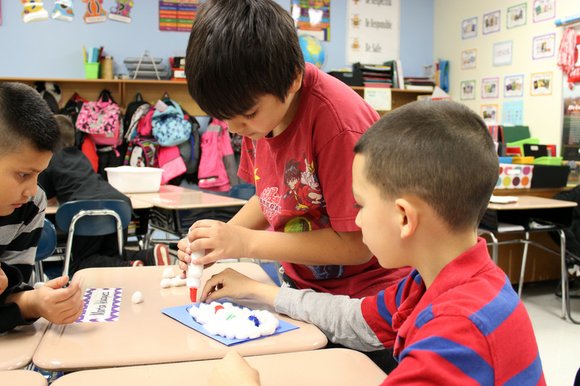 Many of the classrooms at Tibbott Elementary School in Bolingbrook were hard at work this week putting the finishing touches on snowman-themed holiday greeting cards that will be sent to schools around the country.
It's all part of the No Excuses University (NEU) Network, of which Tibbott is a member, according to Principal Ana Wilson.
Nearly 200 NEU Network schools are creating and exchanging the cards as a way to become a little more familiar with each other. Each classroom at Tibbott was given five different NEU member classrooms which means dozens of different schools throughout the United States will learn about Tibbott's mascot, today's high and low temperature, how many boys and girls are in the classroom and three things the class is learning about.
In return, each Tibbott classroom will soon receive customized cards with similar information about five classrooms and schools somewhere in the U.S.
To become a member of the NEU network, schools must meet certain rigorous requirements that show they are dedicated to ensuring that children are educated in a way that makes them college ready should they choose to attend college when the time comes.