Brown Butter Blondies with Macaroon Topping
12/10/2013, 9:55 p.m.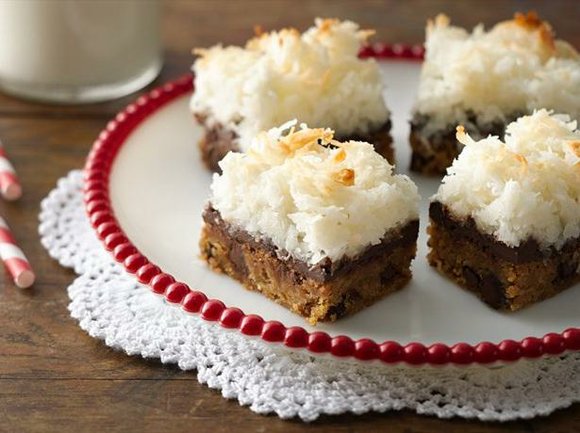 Ingredients
Blondie Layer
¾ cup butter (do not use margarine)
1 pouch chocolate chip cookie mix
¼ cup packed brown sugar
1 teaspoon vanilla
2 eggs
¾ cup dark chocolate chips
Macaroon Layer
¼ cup granulated sugar
3 teaspoons water
1 bag (7 oz) sweetened shredded coconut (about 2 3/4 cups lightly packed)
¾ cup unsweetened finely shredded coconut
2 oz cream cheese, softened
1 egg white, slightly beaten
Directions
Heat oven to 350°F. Line bottom and sides of 9-inch square pan with foil, leaving edges of foil hanging over 2 sides of pan for easy removal later.

In 1-quart saucepan, melt butter over medium heat. Cook 8 to 11 minutes or until butter is light golden brown, stirring constantly. Remove from heat; cool completely, about 30 minutes.

In large bowl, stir together cookie mix, brown sugar, vanilla, 2 eggs and cooled brown butter. Spread in pan.
Bake 25 to 30 minutes or until toothpick inserted 1 inch in center of pan comes out almost clean. Immediately sprinkle with chocolate chips; let stand 5 minutes. Spread evenly over bars.
Meanwhile, in small microwavable bowl, mix granulated sugar and water. Microwave uncovered on High 30 to 60 seconds or until sugar is dissolved.

In large bowl, place sweetened coconut and unsweetened coconut. Pour sugar mixture over coconut; beat with electric mixer on low speed until well mixed. Add cream cheese and egg white; beat on low speed until blended. Spoon and gently press macaroon mixture onto partially baked blondie layer.

Bake 20 to 25 minutes or until light golden brown. Cool completely before cutting, about 1 hour 30 minutes. Cut into 8 rows by 4 rows. Store at room temperature, lightly covered, up to 1 week.