La Traviata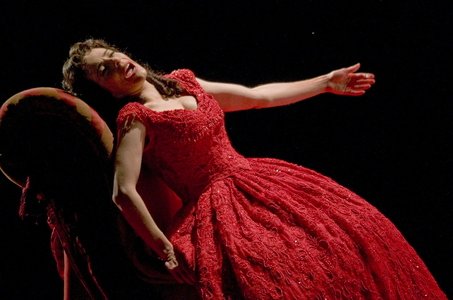 The houselights dim. As the overture begins, dim stage light we see, behind a scrim, as in a dream or memory, a servant is helping her mistress into what seems more an elaborate construction than a dress. The lights go up and the audience almost becomes part of an over-the-top Parisian demimonde, costume ball (grand costumes and puppets by Cait O'Connor). Those few moments telegraph the essence of Lyric Opera's opulent, new production of La Traviata. Verdi's ever-popular, much loved opera, in co-production with Houston Grand Opera and Canadian Opera, runs during December.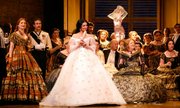 Latvian soprano Marina Rebeka makes a notable Lyric debut in the title role of Violetta Valery, the beautiful French courtesan who is in fragile health. Maltese tenor Joseph Calleja is Alfredo Germont, the young aristocrat who declares his undying love for her at the ball. And by the second act they have moved to the country where they are living in bliss. Their salon is simply furnished but has a full-sized mural of the outside foliage painted in rusts, greens and gold. Luxurious simplicity isn't cheap and unlike Gigi's grandmother whose demimondaine earnings supported her for a long time, Violetta has gone through hers. While she is figuring out what to do, Alfredo's father, Giorgio (Ryan alum, Hawaiian baritone Quinn Kelsey) arrives determined to break the relationship. Violetta eventually agrees to leave Alfredo although she knows her sacrifice will kill her. As it does in the third act.
Each singer was more than impressive in his/her respective solos–Ah! fors'e lui and Sempre Libra; O mio rimorso; Di Provenza il mar–received ovations. Mr. Calleja is moving into the very top rank of tenors. Mr. Kelsey's Germont is vocally strong and will surely become a signature role as he grows into it. Even better than the individual singing, however, the trio's voices are so exquisitely matched that the whole of their work is greater than the excellent parts: the voices combine wonderfully together; they shimmer with jewel-like clarity; none have grand vibrati, and there is no sliding up to or down from a note. The duets Un di felice and Parigi, o Cara were memorable.
Ms. Rebeka Violetta is a fully realized characterization. Her every gesture and movement enhance the multi-faceted woman: glittering on the outside and tender, hoping for true love on the inside. By some alchemy, sets (Riccardo Hernandez) and production (Christopher Ash) underscore her bifurcation. The dying heroine's Addio del passato was exceptional, especially the pianissimi, and her death scene was even better. All credit to director Arin Arbus whose Lyric debut this is.
Supporting roles, mostly sung by Ryan Opera Center members, were impressive as usual. J'nai Bridges, Violetta's friend Flora, has made enormous strides this year, both vocally and on stage, as has Julie Anne Miller as the devoted servant Annina.
Massimo Zanetti, who conducted the well-received Lucia a couple of seasons ago, was in the pit.