Local artist helps with gifted hands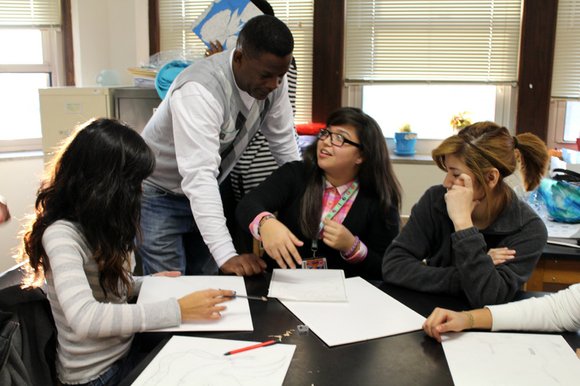 It began as a kind-hearted gesture by an artist and pastor from Joliet for the families of the 26 victims killed in the Sandy Hook Elementary School shooting on December 14, 2012.
A few months after the shooting, Lonnie Posley, an artist and pastor of New Canaanland Christian Church in Joliet, created a piece he titled "The Tree of Life" and delivered it to Newtown, Conn., for the families of the victims as a way to help them in the healing process.
Since then, Posley, has been working with a nonprofit organization known as the Gifted Hands Art Gallery, in Plainfield. He has expanded his "healing" art idea, bringing it to children and teens in Joliet.
Over the summer, he worked with young children at the Forest Park Community Center in Joliet, teaching them about art and its healing powers and also created another Tree of Life piece, this one 9-by-4-foot, and big enough for people to sign. It was done in memory of Eric Glover and Terrence Rankins, both 22, who were strangled to death in a home in the 1100 block of North Hickory Street. Four Joliet teens have been charged in connection with the murders and are awaiting trial in the Will County Jail.
Posely said Jamile Kent, the mother of Terrence Rankins, signed the "Tree of Life" piece and also signed her son's name. Posely came up with the idea of creating an art gallery at the Forest Park Community Center after speaking with the center's director, Bettye Gavin. Gavin was planning a "Day of Healing" at the center and Posley suggested incorporating an art gallery into the program.
"Our goal was for anyone who had any pain in their life to come and sign their loved one's name to it," Posely said of the Tree of Life piece on display at the center.
The art gallery at the center also featured art done by the children in the summer camp program. Posley hopes to work with children at the center again next summer.
"My goal is to continue working with them," he said.
Posely worked with local high school students earlier this fall. He knew the anniversary of the shootings in Newtown was coming up in December so he contacted Mike Lutz, coordinator of the Human Services Academy at Joliet Central High School, and worked with students at the school to create 26 works of art, one for each of the families who lost someone in the tragedy. The program, Posely said, turned out to be pretty popular with the students.
"It started with a small group of about 20 and within a week's time it grew to about 50 students," he said.
The 26 works of art done by the Joliet students will be delivered to the families in Newtown next month, according to Posley.
People from all over the country have sent paintings and drawings to Connecticut and Elaine Zimmerman, executive director for the Commission on Children in Hartford, Conn., has agreed to allow Posley to bring about 50 to 100 of those paintings back to Joliet to display them. Posley is now looking for a gallery so he can display the paintings in March and April of 2014. His goal also is to work with the high school students to create other art works that would be on display alongside the ones from Connecticut.
Posely said art is a great way for people to work through pains in their lives and to aid in the healing process. Posley has a son who suffers from a disability and art has helped him get through that pain in his own life.
"I do this because I'm paying it forward," Posely said. "I have a gift and I believe that gift should be shared. If I can help someone than what I've done is not in vain."
Posley is looking for a space somewhere in or near Joliet to display the artwork this spring. He also is looking for donations of art supplies as he plans to continue to work with children and teens in the region. Anyone wishing to donate supplies or a space for the gallery should e-mail Posley at giftedhandsartgallery@gmail.com.
Rex Robinson can be reached at rex@thetimesweekly.com.