Lockport to infuse new life into historic downtown
Lockport's downtown district, with its historic structures and quaint small town charm, is unique when compared to surrounding communities.
While officials from some nearby municipalities strive to create downtown districts of their own, Lockport leaders face a different challenge.
They are looking to attract more businesses and shoppers to an already existing downtown district and are struggling with traffic flow problems as well as ways to breathe some new life into some historic, yet somewhat dilapidated buildings.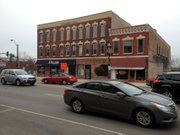 One of the historic buildings at 935 S. State Street in the heart of the downtown, which formerly housed a lounge known as Dreams, sits vacant and boarded up after a fire in 2010. The city is currently in litigation with the owner of the building and city officials would like to see something done with it.
"It's an eyesore that we need to have fixed," Lockport City Administrator Ben Benson said. "But we don't own it so we can't control what happens with it."
However, city officials say they are taking steps to improve the things they do have control over in the downtown as well as improve the business climate through the city, including the 159th Street corridor. The city has created a Business Development District along that corridor and has raised the sales tax by one half of a percent to help pay for infrastructure improvements.
Also, late last month the city hired Pam Hirth as its new Director of Community and Economic Development. Hirth has done community and/or economic development work in Matteson, Bolingbrook, Schaumburg and other areas.
Hirth and Benson last week met with Illinois Department of Transportation officials to discuss ways IDOT could help the city improve traffic flow at the intersection of 9th and State. Any improvements to that intersection, which is consistently backed up with traffic from trucks and other motorists using it as a thoroughfare to get to Interstate 355, would go a long way in helping improve the downtown business district, according to city officials.
The city, according to Hirth, is working with IDOT to improve the intersection by installing left turn lanes in both directions from State Street onto 9th Street and also to make the intersection safer for pedestrian crossing.
"The more pedestrian friendly it is, the more people will want to be in the downtown and visiting the shops and restaurants that are there," Hirth said.
Owners of existing downtown businesses are mixed about the economic viability of downtown Lockport and what should be done to revive the area. Some, like Marguerite Ruminksi, owner of the new Vegan Café, enjoy being in downtown Lockport and say both the city and the Lockport Chamber of Commerce have been very accommodating.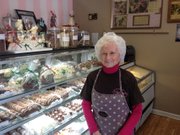 Margaret Carlson, 86, began making candy out of her kitchen more than 30 years ago. She and her daughter, Wendy Carver, are co-owners of Hollingworth Candies, 922 S. State St., and moved the business to downtown Lockport about 14 years ago. People come from as far away as Chicago to buy the handmade toffee and other candies at the shop.