Veteran's housing project resurrected in Joliet
By Rex Robinson | 12/13/2013, 6 a.m.
A plan to bring a veteran's housing project to the former Silver Cross Hospital property could be back on the table in Joliet.
Volunteers of America of Illinois had brought a similar project before the Joliet City Council back in January. The city, however, did not support the Chicago-based nonprofit's project and balked at the proposed density which exceeded the city's zoning requirements by more than double the number of units per acre. The original project called for 73 units spread out over 3.2 acres.
Joliet City Councilman Jim McFarland told The Times Weekly Thursday that the organization is now proposing a project with a slightly reduced density that would include 67 units on 3.2 acres.
"One of my campaign promises was to bring this project back to Joliet and not lose it to another community," McFarland said. "A lot of our area homeless shelters are filled with veterans needing services and housing. This is a no-brainer for the city, especially in that location, right next to the new VA clinic.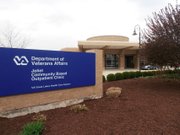 "I believe the city council should support this proposed density to make this project feasible so we can help these veterans who served our country and fought for our freedom."
Nancy Hughes Moyer, president and CEO of Volunteers of America Illinois, has to submit a preliminary application for the project to the Illinois Housing Development Authority by Monday in order to receive tax credits. A full application would then need to be submitted to the IHDA in March of next year and that application must include a commitment from the City of Joliet on the proposed density in the form of a special use permit allowing for a density higher than Joliet's current zoning requirement of 10 units per acre.
VOA's proposal calls for 67 units in four buildings and would include 30 one bedroom units, 19 two bedroom units and 18 three bedroom units. Proposed "hard construction costs" for the project are estimated to be between $13 million and $14 million, according to Hughes Moyer.
VOA also needs the Silver Cross Hospital Board of Directors to agree to transfer the 3.2 acres to VOA for the project. The board had agreed to do that previously, but this is a new project that will once again require the board to transfer the land, according to Hughes Moyer. The board is expected to consider the new proposal on Tuesday.
When asked why VOA is bringing the proposal back before Joliet now after being previously denied, Hughes Moyer said there are some new faces at City Hall, such as McFarland and new City Manager Jim Hock.
"I think time has passed and I think there are different people around the table who are willing to reconsider the project," Hughes Moyer said. "There were concerns about the density ratio of the project the last time. The city has a general threshold of not more than 10 units per acre, but municipalities can make exceptions to those thresholds."
That would be up the city council to decide, according to Hock.