Chicagoland Speedway Ready For NASCAR In 2014
12/18/2013, 5:11 p.m.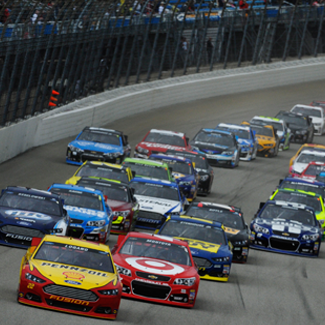 Tickets for the 2014 NASCAR race weekends at Chicagoland Speedway will go on sale Sunday, Feb. 23, 2014 in conjunction with the 56th running of the Daytona 500.
The Chase for the NASCAR Sprint Cup will return for a fourth consecutive year in 2014, Sept. 12-14, with a triple-header weekend of action. The Speedway will also welcome back Saturday night racing with the NASCAR Nationwide Series on Saturday, July 19. Tickets for the first race in the Chase for the Sprint Cup start at just $50 with advanced pricing and flexible payment plans are available to all fans.
Chicagoland Speedway fans will not only have access to the best prices of the year beginning on February 23rd, but customers will also have the opportunity to explore the greater variety of pricing options now available. Those options will be available with ticket renewal information, which will be mailed out to 2013 customers by early January. Advanced pricing ends on April 1st, so be sure to check your mailboxes and take advantage of the lowest prices of the season.
One way to ensure your favorite race fan gets his or her seats is with the Chicagoland Speedway gift card. Gift cards can be purchased by stopping into the Chicagoland Speedway administration building or by calling 815-722-5500. Gift cards will also be available this Saturday when Santa visits Gatorade Victory Lane from 10 am – 2 pm at Chicagoland Speedway.
The complete 2014 NASCAR schedule at Chicagoland Speedway is as follows: Saturday, July 19 - NASCAR Nationwide Series & ARCA Racing Series, Chase for the NASCAR Sprint Cup, Friday, Sept. 12 - NASCAR Camping World Truck Series, Saturday, Sept. 13 - NASCAR Nationwide Series, Sunday, Sept. 14 - NASCAR Sprint Cup Series
Additional details around the two summer weekends of NASCAR racing at Chicagoland Speedway in 2014 will be announced in the coming weeks and months.