Organizations connecting local residents to health care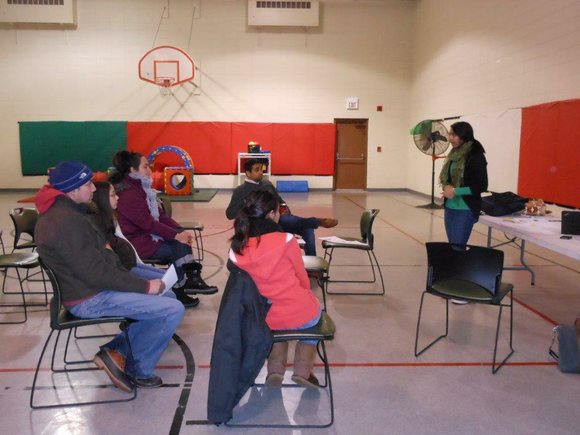 Despite less than ideal travel conditions over the weekend, employees with Enroll America braved the drifting snow and icy roads to meet with Joliet residents to talk about health care.
The non-profit organization is working in Illinois and 10 other states under the Get Covered America campaign to connect uninsured residents with the information they need to select a health plan under the Affordable Care Act.
On Saturday, Enroll America organizer for Will County, Sakina Tayebali, and her team were camped out at the Spanish Community Center, 309 N. Eastern Ave., in Joliet to educate residents about what's available.
Even with the snowy forecast, Tayebali said that within the first 30 minutes she had already conducted two informational presentations, and connected attendees to In Person Counselors for more personalized help.
"We've seen a lot of interest," said Tayebali.
Enroll America has been laying the groundwork for its outreach since September when the organization first established a presence in Illinois said State Director David Elin who noted that the pace of signups has increased as more shoppers have learned about the plans.
Just over 7,000 people have signed up in the state of Illinois so far said Elin with another 67,000 ready to choose a plan.
In Will County, out of a population of about 720,000, around 52,000 residents are without health insurance according to Enroll America. About 130 in Will County have signed up since enrollment started in October.
Uninsured residents who would like to have coverage start on January 1 next year will have to be signed up for a plan by December 23. Open enrollment will end for 2014 on March 31.
Residents who came out to the Spanish Community Center were learning some of the basics about the Affordable Care Act from the Enroll America workers said Elin.
For instance, under the new law, those who sign up for a plan will be guaranteed coverage for health care essentials like doctor visits, trips to the emergency room, hospitalizations, as well as maternity and newborn care and prescriptions.
Residents also learned about the financial help that is available for those seeking coverage through subsidies and that those who are uninsured can no longer be denied coverage for a pre-existing condition noted Elin.
Those interested also have an opportunity to compare plans with an in-person counselor to find the best fit for their needs, he said.
This weekend's informational meetings are not the last event that Enroll America will hold.
Those who missed this weekend's event in Joliet event can go to Enroll America's website (www.getcoveredamerica.org/events) to find more information about upcoming events, or by texting "locator" to 877877.
The group, he said, will continue to connect with community organizations to provide what he called their "maximum outreach effort."
Tayebali noted that she will be reaching out to some of the estimated 10,000 college students who don't have coverage in the area when she attends Joliet Junior College's welcome week during the first week of January.

All of it is part of the group's ongoing efforts to get everyone signed up for health coverage.
"Everyone is working toward the same goal," she said.
Follow me on Twitter @BrockAStein.