Pet of the week
12/18/2013, 10:24 p.m.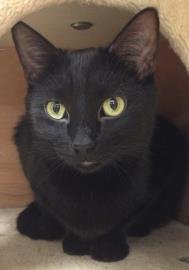 Midnight Poe is a kind and gentle 3 year old male black domestic short hair cat available for adoption:
Meeeooowww - I'm Midnight Poe and I'm a sweetheart of a cat who can be a little shy and even hide at first until I adjust and am comfortable. But oh boy do I lovvvvve to rub up all over you and have you rub my ears and pet my head. I am super duper loving. I am not crazy about dogs; cats on the other hand are AOK, just need that gradual introduction so we can determine our feline heirarchy. I get a little nervous around young kids, but am tolerant though not too happy. I prefer kids that are older and not as rambunctious. Come meet me and you will see - I will be a good, loyal and affectionate friend.
Midnight Poe's $125 adoption fee includes his neuter, vaccines, fecal and FIV/Felv tests, and microchipping. For more information on adoption, contact the Romeoville Humane Society by email at romeovillehumanesociety@yahoo.com romeovillehumanesociety@yahoo.com or phone (877) 813-7300.