Three new honorary street names approved in Joliet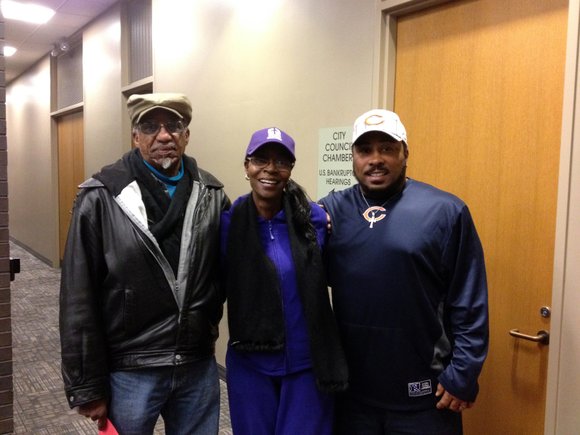 The founder of the Forest Park Community Center, a barber and a local pastor will now receive some special recognition in Joliet.
The Joliet City Council on Tuesday agreed unanimously in favor of three new honorary street names.
The newly constructed Woodruff Road bypass will be renamed in honor of Louise Ray, founder of the Forest Park Community Center. The adopted street naming criteria did not need to be followed for this honorary street because it is a newly constructed road, according to Joliet City Manager Jim Hock.
"We stand here very proud and humbled this evening because of the mark that Mama Ray (left on) that area," Forest Park Community Center Executive Director Bettye Gavin said. "This is a great honor."
Roy Smith, Louise Ray's oldest son, thanked the city council on behalf of his family and the entire Forest Park community.
The council also agreed to rename a portion of Stryker Avenue between McDonough Street and Interstate 80 in honor of Pastor Robert L. Dorris to where his Prayer Tower Church of God in Christ church is now located. Dorris could not attend Tuesday's city council meeting because he was out of town, but plans to thank the city council for the honor at a later date, according to Councilman Terry Morris.
A third honorary street name was approved for Bob Cassanova, who was a barber in Joliet for 66 years. His shop was at 118 N. Ottawa Street and he worked there five days a week until his death at age 96. Ottawa Street between Clinton and Jefferson Street will now be renamed in his honor.
"Our dad was very proud to be part of the business community for 66 years in downtown Joliet," Adrienne Casanova, Bob Cassanova's daughter, said. "His first shop was on Clinton Street right across from the old St. Mary's for three years and then he moved to 118 Ottawa Street for the remaining 63 years. He was a very humble, kind man and touched very many lives here in downtown Joliet."
Councilman Jim McFarland said all three individuals are "gifts from God" to the city of Joliet.
"The least we can do is honor them with a street name," McFarland said after Tuesday's meeting.
In October, the city council approved an ordinance approving an honorary street naming program. The new program requires a fee and signatures from residents to get an honorary street named after someone.
Rex Robinson can be reached at rex@thetimesweekly.com.