County receives early Christmas present for veterans
12/23/2013, 7:55 a.m.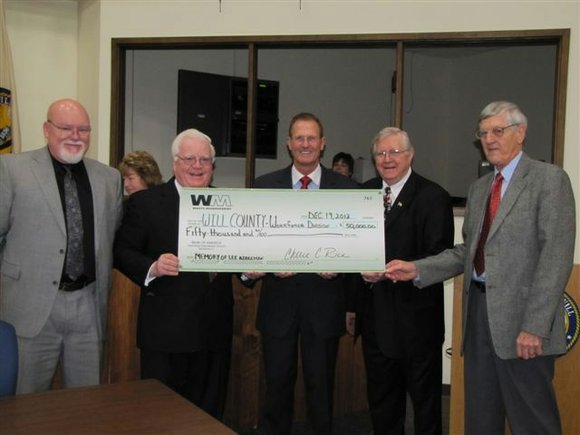 Waste Management of Illinois recently presented a $50,000 check to fund the newly created Lee Addleman/Will County Veterans' Employment Advocacy Project. The program is designed to assist veterans obtain employment through employer-based internships and will be managed through the Workforce Services Division of Will County. Waste Management of Illinois will also donate $50,000 for the next two years of this program. The program bears the name of Lee Addleman, a long time advocate for Waste Management and Will County.
"This generous donation from Waste Management will go a long way to help our veterans in Will County," Will County Executive Larry Walsh said. "We are proud this program is named after Lee who was such a good friend to Will County."
While veterans have access to education and training opportunities, they face the challenge of not having experience in certain fields. This program will use paid internships as a strategy for securing employment.
"Through the Workforce Services Division of Will County, we will identify 'veteran friendly' employers to participate in this program," said Pat Fera, manager of the Workforce Services Division. "We will also work with our partners at Joliet Junior College, Lewis University, Governors State University, and the University of St. Francis, as well as organization in Will County that serve our veterans and the Illinois Department of Employment Security to refer veterans to this program."
This new program will have an initial pilot of three years and will be re-evaluated and re-structured as needed. Walsh credits Lois Mayer, the county's grant writer, for her assistance in obtaining this grant.
"Lois has been very helpful in finding revenue sources for important projects in Will County, such as this veterans' employment advocacy program," he said. "For nearly 10 years, Lois' diligence in acquiring grant funding has enabled our county to maintain and offer many significant programs for our residents."
Locally, Waste Management of Illinois currently employs 165 former veterans and as a company, employs 2,500 veterans.
"We believe it is important to support the veterans that served our country with the respect of employment opportunities and we are proud to help with that endeavor in Will County," said Mike Watson, area vice president of the Waste Management – Illinois Missouri Valley. "This donation is a reflection of the company's continued involvement as part of the Will County's partners in progress as we support the communities that we service."
Dale Hoeskstra, director of operations at Waste Management, said it is fitting to name this program after Addleman.
"Waste Management is proud to make this donation to Will County in the name of Lee Addleman, a great man who served his country, was a valued Waste Management employee and a friend to everyone he met," Hoekstra said. "We want to honor his memory and help support veterans who re-enter the workforce after their time in the military."