Flyers Head Into Break Undefeated At 7-0
12/23/2013, 3:30 p.m.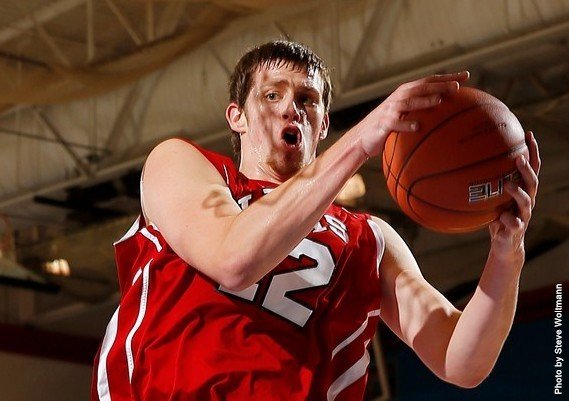 Lewis University junior guard Jeff Jarosz scored a game-high 18 points and keyed a 9-0 run over the final 2:34 to help the visiting Flyers rally from a nine-point, second-half deficit en route to the 75-71 regional road victory over Malone University at Osborne Hall on Saturday afternoon.
Jarosz scored nine points in the final 6:37, including the game-tying trifecta with 1:32 left in the game and the go-ahead lay-up with 41 ticks left on the clock. For the game, Jarosz (2 treys) was 8-for-13 from the field with six assists and zero turnovers. "I thought Jarosz imposed his will on our team today," Lewis head men's basketball coach Scott Trost said.
Jarosz's backcourt mate Ryan Jackson (Bolingbrook, Ill./Riverside-Brookfield) was equally as efficient, as he posted his second career double-double with 16 points and 10 rebounds. The Flyer front court of sophomore center Kyle Nelson and junior forward Julian Lewis was a perfect 9-for-9 from the field. Nelson (4-for-4) had 11 points, while Lewis (5-for-5) had 10 tallies and six rebounds.
Lewis shot 67.4% (29-for-43) from the field. That is the best outing by a Flyer squad since they converted 69.4% (34-for-49) of their attempts in an 84-65 win over Illinois-Springfield on December 6, 2004. With the win, Lewis extends its winning streak to seven and improves to 7-0 on the campaign. Malone falls to 4-4 on the season.
"At the end of the year, this will end up being a really good win," Trost said. "Malone is a very well coached team with quality players. I'm really happy to be heading into break undefeated."
Despite the Flyers' scorching shooting performance, Lewis had to combat the potent three-point attack of Malone. The Pioneers hit 12 trifectas on the afternoon, as four different players hit at least two three-pointers. Malone sophomore guard Christian Graves paced the Pioneers with five three-pointers to finish with 15 points. As a team, Malone shot 38.7% (12-for-31) from long range.
Malone senior guard Isiah Elliott was the offensive catalyst for the Pioneers, as he collected both a game-high in points (18) and assists (7) while connecting on two three-pointers. The Pioneers also received solid performances from both senior forward Cory Veldhuizen (13 points, 6 rebounds) and senior guard Che Richardson (10 points, 4 assists, 2 treys).
Lewis returns to action on December 31st, as they welcome Trinity Christian to Neil Carey Arena for a 1 PM tip-off in their non-conference season finale.