Top 10 stories from 2013
Rex Robinson | 12/23/2013, 12:45 p.m. | Updated on 12/23/2013, 9:22 p.m.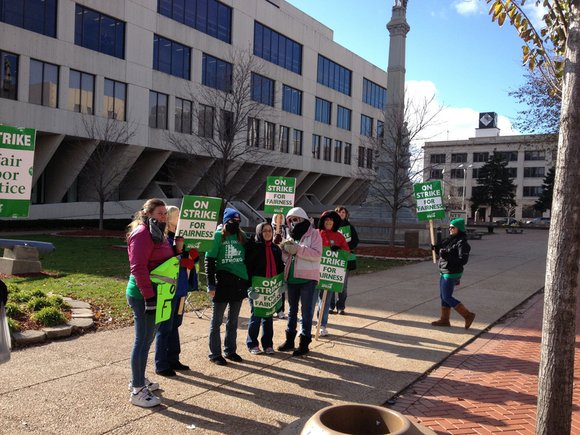 A local spring election that included a former NFL player running for mayor, a massive public outcry over plans for a for-profit prison, a proposal for a third airport and an ugly green beetle that killed trees in every single community.
These are just some of the stories that made headlines in 2013. Here's a quick look at the Top 10 stories from the year that ran in The Times Weekly:
Will County union workers strike: Members of the American Federation of State, County and Municipal Employees Local 1028 walked off the job on Nov. 17 and were on strike for about two weeks before reaching a contract with Will County Board leaders. The strike not only divided the county and its union employees, but also slowed services for county residents. The county board approved the new contract with the union just this past week.
Strong opposition to for-profit detention center: Hundreds marched through the streets of downtown Joliet in April in protest to plans by Corrections Corporation of America to build a for-profit immigrant detention center in the city. Members of Joliet's Hispanic community and many others voiced opposition to the plans. Many saw the proposal as a direct threat on the Hispanic community. In the end, the company never did come before the Joliet City Council to present any formal plans for the detention center and later completely dropped the idea.
Former Bear's player runs from mayor in Romeoville: One of the more interesting notes from the spring election was the "Bear factor" in Romeoville. Steve "Mongo" McMichael, a defensive player for the 1985 Super Bowl winning Chicago Bears ran a tough campaign for mayor against incumbent John Noak, but in the end could not come up with enough votes to win.
Home Depot opens 1.6 million-square-foot center: Gov. Pat Quinn was one of many elected officials on hand in late September for the grand opening of the new 1.6 million-square-foot Home Depot Stocking Distribution Center at CenterPoint Properties. Quinn said at the time that the new center is but one example of the need to build the proposed Illiana Expressway, which would run from Wilmington in Illinois to Lowell, Indiana, and help to reduce congestion from truck traffic along Interstate 80.
Sam's Club comes to Romeoville: Sam's Club opened its 29th store in late September in Romeoville at 460 Weber Road. It was one of more 70 new businesses that opened in the village in 2013. More than 200 people gather for a grand opening at the new Sam's Club. Romeoville Mayor John Noak called it "another milestone" as the village continues to develop and grow, "bringing jobs and new revenue." More than 150 new jobs were created as a result of the opening of the new store.
Dominick's pulls out of the Chicago market: Safeway announced earlier this fall that it would be selling or shuttering all 72 of its Chicago area Dominick's stores. That news came as a big blow to shoppers and elected officials from Plainfield, Romeoville and other communities. While the Dominick's stores will be all but gone in 2014, Mariano's, Jewel and Centrella have announced plans to buy up all the Chicago locations.