Lyric's Die Fledermaus: The most fun you'll have at the opera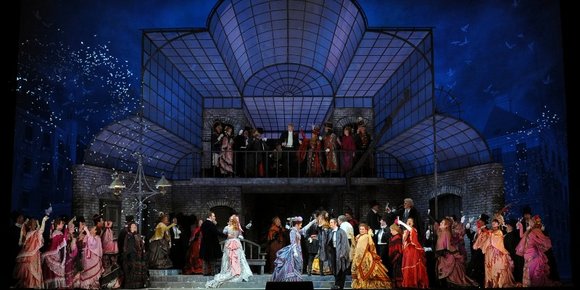 It all started with a prank – think, George Clooney–concerning a butterfly and a bat.
Unhappy with the outcome, Dr. Falke, the bat in question (Austrian baritone Adrian Erod), decided to get even. His friend, the philandering Eisenstein (Danish baritone Bo Skovhus) – think, Brad Pitt – who is married to the luscious, flirtatious Rosalinde (German soprano Juliane Banse, in a splendid Lyric debut) – think, well, you know – is having a last night of freedom before going to jail. He and Dr. Falke plan to spend the night carousing at Russian Prince Orlofsky's villa, making friends with ballet dancers and chorus girls.

Meantime, Rosalinde's old lover, Alfred (Missouri tenor Michael Spyres, in an excellent Lyric debut), after serenading her has climbed the drainpipe into her bedroom to seduce her by singing that he has forgiven her for marrying someone else (Alfred, in complete tenor caricature down to his black velvet coat, is always singing). When Frank, the prison warden (British baritone Andrew Shore who owns the third act jail scene), arrives to take Eisenstein to jail, he gets Alfred instead.

After some manipulations, the Eisenstein's chambermaid Adele (American debut of Austrian soprano Daniela Fally who steals every scene she's in) manages to find a way out of the house to go to a party at Prince Orlofsky's; yes, the same party. And that's before things begin to get complicated.
Johann Strauss's beloved operetta is set in Vienna in 1870 – it premiered there and in
New York in 1874 and has been part of the regular repertoire ever since. The festivities at Count Orlofsky's villa include champagne, gambling, waltzing and hired performers (dancers-Daniel Pelzig's choreography sparkled, and singers).
These pleasures, especially the show-within-a-show make it a special favorite at the holiday season even without Dr. Falke's diversionary, "The Revenge of the Bat." Some places have the tradition of inviting musicians who happen to be in the area to enhance the party with their performances; that guest list is an extra holiday present. Another tradition is the interpolation of asides and ad-libs throughout the show. Frosh, the jailer (Chicago-based actor Fred A. Wellisch) has a lot of these, i.e., remarks about Toronto mayor Rob Ford, in Act III.
Style was the byword of the time: lightness over earnestness, champagne-like effervescence; charm in every aspect of life. Most of the principals have sung with the Vienna Volksoper or Staatsoper where they have acquired the patina of stylistic elegance, wit and a certain sophisticated irony; confectionary that is not nearly as simple as it seems. By contrast, Emily Fons, the American mezzo in the trouser role of Orlofsky and conductor Ward Stare are more straightforward in how they approach the music. They are musically correct, which may not be the most satisfying approach to this music.
E. Loren Meeker, making her Lyric directorial debut, worked with the late set designer Wolfram Skalicki on the San Francisco Opera's Fledermaus on which this new-to-Chicago production is based. The ensemble of stage direction, sets and costumes (Thierry Bosquet) is elegant, period perfect and seamlessly integrated. If Mr. Skalicki had designed nothing else in his long and distinguished career, his name would be remembered for this Fledermaus.
The sets, enhanced by Duane Schuler's lighting, are spectacular: the two-story cutaway of Eisenstein's house (Act I), is an origami pop-up cutout card, a whipped cream-like delight; the jail (Act III) is a Crystal Palace both in shape and paned glass. Prince Orlofsky's villa (Act II) is pure magic, design as background for riots of jewel colors. Guests congregate outside the villa the outer wall of which lifts up to reveal an opulent entrance area, and that wall raises as well to display an immense ballroom with chandeliers and lavish, luxuriant furnishings. Nothing in decades of opera going has made as much of an impression.