Mushroom and Onion Vegetarian Tacos
12/30/2013, 11:45 p.m.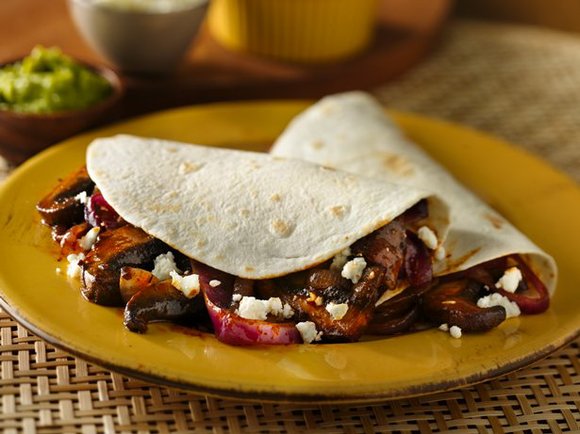 4 Servings
Ingredients
Tacos
1 tablespoon vegetable oil
1 medium red onion, sliced
3 large fresh portabella mushrooms, sliced, cut in half, stems removed (3 cups)
2 tablespoons taco seasoning mix (from 1-oz package)
2 tablespoons water
8 flour tortillas for soft tacos & fajitas (6 inch)
Toppings, as desired
1 cup guacamole
½ cup sour cream
½ cup crumbled queso fresco cheese
Directions

In 12-inch nonstick skillet, heat oil over medium-high heat. Cook onion in oil, stirring occasionally, until brown. Add mushrooms. Cook 6 to 8 minutes or until tender. Reduce heat to low. Add taco seasoning mix and water. Cook about 5 minutes or until water is absorbed. Remove from heat.
Spoon filling on tortillas. Add toppings. Roll up tortillas.