Joliet Expo offers incentives for first-time homebuyers
By Rex Robinson | 7/2/2013, 9:56 p.m.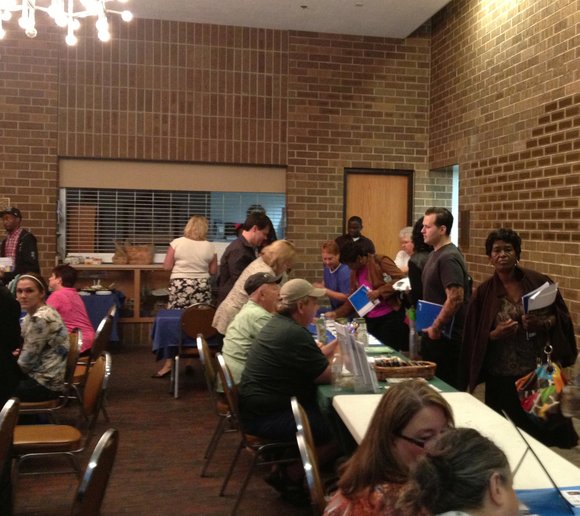 More than 100 people from throughout Will County attended the Crest Hill, Joliet & Lockport Housing Expo held this past weekend at the Bicentennial Park Theater in Joliet.
Justin Thompson, 24, of Joliet, attended the expo with his girlfriend, Jasmine Moore. He said he felt hopeful after attending a presentation of the various programs available to first-time homebuyers, military veterans and others.
"I think it was really good," Thompson said. "I actually think it's something that would fit with what I want to do."
Melanie Mitchell came to the expo got get information for her daughter.
"She's at work and I'm doing all the footwork for her so hopefully she can become a homeowner," Mitchell said.
Bob Palmer, director of community development for Lockport, said his hope was that people left the expo with all the information they needed to take advantage of one of the available programs. The goal of the expo, he said, was two-fold – to introduce first-time homebuyers, military veterans and others to the programs available to make buying a home more affordable and to reduce the number of vacant homes within Lockport, Crest Hill and Joliet.
The expo was sponsored in part by the Illinois Housing Development Authority, the state agency that is offering the various mortgage programs. Greg Faulkner, the agency's account manager for homeownership programs, outlined the programs during a presentation at the expo.
For example, one of the programs, SmartMove, he said, is for first-time homebuyers and includes up to $6,000 in cash assistance to cover the down payment and closing costs, a 30-year fixed-rate mortgage with a competitive interest rate, and a variety of options to choose from, including FHA, conventional, VA and USDA loans. Buyers are required to contribute 1 percent or $1,000 of the purchase price, whichever is greater, purchase a one- or two-unit property and live in the property for at least two years.
The Building Blocks program, offers buyers $10,000 in assistance to help buy a vacant home, typically one that has gone through foreclosure. This program is open to all buyers, who plan to make the property their primary residence. However, there are only certain communities eligible to participate in the program. In Will County, those include Crest Hill, Lockport and Joliet.
Another program is offered only to military veterans and in addition to the $10,000 grant, the program also includes a federal tax credit.
After outlining the different programs, Faulkner encouraged attendees to pass on what they learned to their friends and family members.
"It's very important that your reach out to as many people as possible," Faulkner said. "Word of mouth is how we get our word out."
Another requirement for anyone who wants to take advantage of one of the programs is that they attend an eight-hour class on all that is involved in purchasing and owning a home, according to Patricia Venziano, a housing counselor with the Will County Center for Community Concerns. Venziano explained the requirement for the class during the presentation.
John Tomasoski, city administrator for Crest Hill, Palmer and Alfredo Meliso, director of neighborhood services for Joliet, all said they were hopeful the programs would enable more people to become homeowners and reduce the vacancies in their respective communities.
"It's another tool we can use," Tomasoski said.
Tara Pavlik, director of originations and operations for the IHDA's Homeownership Programs, said just less than $60 million in loans were provided for the programs during the month of May throughout the state.
"That's a good sign for Illinois," she said.
When the Building Blocks program was launched in March of last year, it covered only six communities, according to Pavlik. Nine additional municipalities were added in 2013, she added. That program is specifically aimed at reducing vacant properties within those communities.
Whether it works remains to be seen. She said it will take anywhere from six to nine months until the IHDA will know the impact of the program and how many vacancies were taken off the market.
For more information about the IHDA incentive programs, visit www.ihda.org.