Crest Hill teen launches scholarship program
Alex Ortiz | 7/3/2013, 7:46 a.m.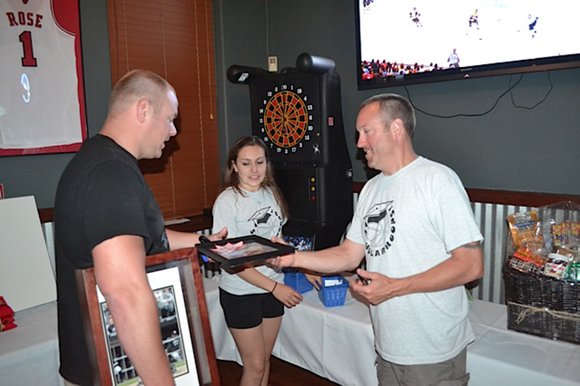 While dozens of fans had their eyes glued to TV screens at Durbin's Pizza watching the Chicago Blackhawks win the Stanley Cup late last month, Kaetlyn Hernandez focused on a cause that is very important to her.
The 16-year old, along with younger sister Emily, her mother Vanessa, father James and a few other family members and friends were holding an auction/raffle for ScholarHoops (scholarhoops.com), the nonprofit organization Hernandez started to raise money for scholarships for local students.
Her goal is to raise enough money for six $2,000 scholarships, and while that might not be attainable in the organization's first year, she is determined to see it through. She credits her father for instilling in her a mentality that she has found so valuable in heading ScholarHoops, in sports and life in general.
"One thing that has definitely stuck with me that he always tells me is … 'Once you start something, you have to be committed to it and you have to follow it through,' " Hernandez said.
The father-daughter duos' love of sports goes back to when Kaetlyn started playing basketball at the age of eleven when her father was her coach. She has continued playing basketball and will play her senior year at Lockport Township High School and her father has continued coaching on his youngest daughter's softball team.
"My wife and I are extremely proud to call Kaetlyn our daughter," James said. "She has always been a hard worker. She continues to amaze us with her work ethic and ambition."
Scholarhoops main event will be a one-day basketball camp on Aug. 31 at the Romeoville Recreation Center. In order to apply for a scholarship, participants will have to fill out a registration form, pay a $25 fee, provide their most recent report card and write an essay about the importance of balancing academics and athletics. Three board members will then select the winners.
Hernandez also hopes to grow her small army of helpers. She received a big boost from Noel Maldonado, the Athletic Supervisor at the Romeoville Recreation Department, who offered to help by providing Scholarhoops a place for the basketball camp and other events such as a three-on-three basketball tournament held in April.
"Kaetlyn is fortunate to have lots of family and friends who have supported her and we are all thankful for them!" Vanessa Hernandez said.
Hernancdez's extended family is also helping out at every opportunity. Her grandmother and aunt made basket prizes to raffle off at Durbin's. Her uncle, who works at Durbin's, helped coordinate the auction/raffle.
"We are trying to get the word out a little bit so we can have people outside of my family to come support us," Hernandez said. "But my family … they make so many donations, they're always there (to) set up things. Everybody's so involved and they're all so proud of what I'm doing."
Hernandez originally conceived of the idea because a childhood friend. Aron Nava, a 2012 graduate of Romeoville High School and Aurora University student, helped establish the Frank Aguilar Scholarship at RHS in memory of a longtime teacher at the school.