Skillet BBQ Chicken with Slaw
7/3/2013, 7:22 a.m.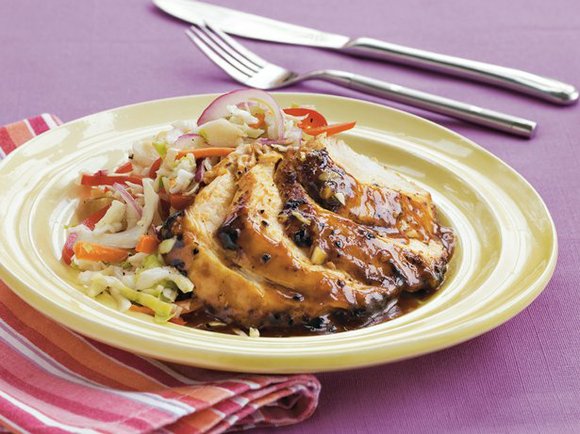 4 SERVINGS
INGREDIENTS
Slaw
¼ cup cider vinegar
1 tablespoon olive oil
2 tablespoons honey
½ teaspoon freshly ground pepper
¼ teaspoon kosher (coarse) salt
4 cups coleslaw mix (from 16-oz bag)
1 cup thinly sliced red bell pepper
1/3 cup thinly sliced red onion
Chicken
4 boneless skinless chicken breasts (1 1/2 lb)
3 cloves garlic, finely chopped
1 tablespoon salt-free southwest chipotle seasoning blend
¼ teaspoon kosher (coarse) salt
1 tablespoon olive oil
½ cup honey-roasted garlic barbecue sauce
¼ cup water
1
DIRECTIONS:
In large bowl, stir vinegar, oil, honey, pepper and salt with whisk. Add coleslaw mix, bell pepper and onion; toss to coat. Cover; refrigerate at least 10 minutes.
2 Between pieces of plastic wrap or waxed paper, place each chicken breast smooth side down; gently pound with flat side of meat mallet or rolling pin until 1/2 inch thick. Rub chicken with garlic; sprinkle with seasoning blend and salt.
3 In 12-inch nonstick skillet, heat oil over medium-high heat. Cook chicken in oil 5 to 7 minutes, turning once. Add barbecue sauce and water; cook 1 to 2 minutes longer or until chicken is no longer pink in center.
4 Toss slaw. On each of 4 plates, place 1 chicken breast and 1 cup slaw. Spoon 1/4 cup sauce over chicken breast.