Wagner, Verdi, Muti: The Final CSO Concerts this Season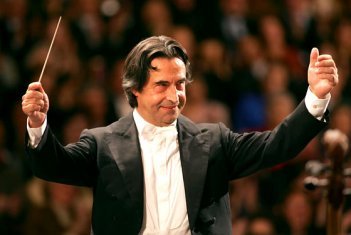 Viennese musicologist Oswald Jonas would have loved the last two weeks of the Chicago Symphony Orchestra season. For him, great music ended with Brahms, so he made himself an expert in 20th century music: "What you don't love, you must know better than what you do." Riccardo Muti is that way with Verdi and Wagner; one is close to his heart; for the other, the head will have to do. This season was Wagner's 200th birthday (he was born in February). The CSO (cannily) programmed works both by Wagner and by composers he influenced, including Anton Bruckner. Next season's Verdi's anniversary (he was born in October), will be a real celebration.
Mr. Muti opened the penultimate week's concert with Wagner's Siegfried's Rhine Journey and Funeral Music (from Gotterdammerung), which ends his four opera, nearly 20-hour Ring cycle. It grew out of a sketch, "Siegfried's Death," which he wrote many years earlier. Mr. Muti began very soft and very slow, as if looking back and reassessing the hero's life. Continuing from there were the various stages of that life: when one starts with death, the only place to go is up. It's never a chore to report that the orchestra continues to get better and become ever more finely attuned to Mr. Muti's requests. Five Wagner tubas joined an augmented brass section, so good it approached the glory days of Fritz Reiner's brass section.
The concert ended with Anton Bruckner's symphonic beginning, his rarely heard Symphony #1 in C minor. Hearing Wagner's music changed his life and musical trajectory; some say that Bruckner was to the orchestra what Wagner was to opera. He started the work in 1866 and tinkered with it for the next quarter century. Like his other work it tries to find a comfortable place between heaven and earth. The younger Bruckner seems to emergence from the musical world of Schubert; Wagner would have one believe that he had no antecedents.
Two of my favorite performances of the Beethoven 4th Concerto were pianists substituting with the Chicago Symphony Orchestra. The first was Eugene Istomin (Reiner, 1957). The heartfelt dialogue of the second movement and the humor of the third are still easily recalled. In these performances, Czech-Austrian Rudolf Buchbinder made his downtown debut (he played Ravinia in 1974) substituting for Leif Ove Andsnes. His Middle European playing is not to everyone's taste these days; the audience, however, clearly loved him and called him back time after time. His playing is integrative and civilized, what is unique was how he uses his right hand: most pianists emphasize the middle finger to the thumb; for Mr. Buchbinder, middle finger to pinkie are equal–a trill was as likely 4-5 as 3-1, making a different contextual content. One especially nice moment was a downward thumb glissando answered with an immediate finger run back up, all totally smooth. Needless to say, the collaboration was wonderful.
---
Verdi's Four Sacred Pieces, closed the last concert and the season on a spiritual as well as a musical high. Closings and goodbyes, like exhalations, are emotional mini-deaths: All three works on this program were written near the end of the respective composers' lives. Mr. Muti has often said that Verdi's music chronicles the heart and the emotions. These pieces span many years and are full of compositional gems developed over his lifetime. Ave Maria, 1889, was written in response to a musical game in a newspaper. Stabat Mater, 1897, the very last music he wrote, is like an opera in one scene for full orchestra and chorus: "Who would not weep to see Christ's mother in such humiliation?" "When my body dies, let my body be granted the glory of Heaven. Amen." Laudi alla vergine Maria, 1890, uses text from the final canto of Dante's Paradiso: (a cappella women) "you …so ennobled human nature that your creator did not disdain to be born of you." Te Deum, 1896, develops from plainsong: "We praise you… . Heaven and earth are full of the glory of your majesty." It's a life review journey, which returns, eventually, to where it began. It is said to have been the composer's favorite.
Leading up to them were Mozart's Ave verum corpus (K. 618), a musical miracle in only 46 measures and Vivaldi's Magnificat (R 611), the opening of chord of which is like Bach's B Minor Mass Kyrie, but makes the point that religion can be sunny and joy-filled. All the works featured the Chicago Symphony Chorus. Russian mezzo-soprano Alisa Kosolova was soloist in the Vivaldi. A rising star, whose excellent voice has an exquisite lower register, she has been mentored by Mr. Muti. It shows.
Mr. Muti bade the audience a serious goodbye, reminding us of the great music and musicians we have. And because Muti is Muti, he said his first question upon landing in Rome would be: Did the Blackhawks win? He'll start the summer smiling.