Great wines for July 4th celebration
An Oscar-winning film director gets high mark with award-winning wines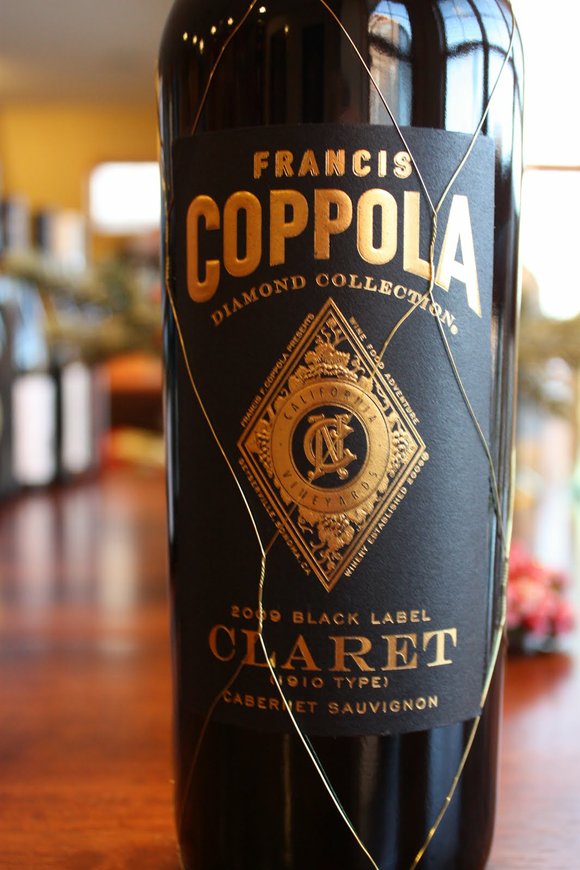 Wine of the Week: Francis Coppola Diamond Collection Claret 2010 ($18)
Geyserville, Sonoma County California--This is a luscious, fruit forward red wine that is terrific with a huge steak or meat grilled in the open air on the barbecue. I had it with some grilled lamb skewers that had been marinated in a spicy Satay peanut sauce, Indonesian style, and found it to be one of the most satisfying meals so far this summer. The wine is rich with dark and red fruit flavors, such as black cherries, cassis, blackberries and hints of roasted coffee. Best known for his Oscar and Cannes Film Festival Award winning films (Patton, The Godfather, Godfather !!), Coppola has made his mark as a California winemaker ever since his purchase of the Niebaum Estate in Rutherford in 1975 and revival of the adjacent Inglenook winery. His neighbor, Robert Mondavi, first encouraged Coppola and his wife and filmmaking partner Eleanor to start making quality wines, saying "I have a vision that you can make quality wines at this property." Mondavi's vision inspired the filmmaker and he embarked on a path that has produced a series of successful wine varietals. Diamond Collection Claret 2010 is a blend primarily of Cabernet Sauvignon, with a composition of 79% Cabernet, 13% Petit Verdot, 5% Malbec and 3% Cabernet Franc. The wine is lush and rich with concentrated flavors, layered with velvety textures and lingering aromas. Careful aging in French oak has enhanced its character, giving it richness and body that you would normally find in wines quadruple the price. At 13.5% alcohol, this wine has a solid structure that can stand up to some cellar aging, but its ready to drink now, so that may prove to be a moot point.
I have found myself returning to this wine time and again, ever since I received the first sample bottle from the winery. It's quickly become my favorite this summer. I'm sure it could be yours too!
Francis Coppola has enhanced his presence as a California winemaker with the opening of his winery and wine-themed park in Geyserville, Sonoma County California. Located at the former site of Souverain winery, it is a family-friendly environment. Other Francis Coppola wines of note produced at the winery include his 2011 Diamond Collection Chardonnay $16), the flagship of his single varietal wines, a classic expression of this iconic California grape. Director's Cut 2012 Alexander Valley Sauvignon Blanc ($21), a unique expression of a quintessential Sonoma County wine, Diamond Collection 2011 Pinot Grigio ($16), marked by its bright citrus fruit aromas and flavors and immediate drinkability, Diamond Collection 2011 Malbec ($18), a California twist on this Argentine favorite, also great with barbecue and Diamond Collection 2010 Red Blend ($18), inspired by the cinematic masterpiece, Gone With The Wind and the mercurial Scarlett O'Hara. "It's a 'sky's the limit' kind of blend created exclusively by taste by the winemaker, Corey Beck, with no particular roadmap in mind.