Racial comment prompts resignation of Will County Veterans Commission official
By Rex Robinson | 7/9/2013, 9:20 a.m.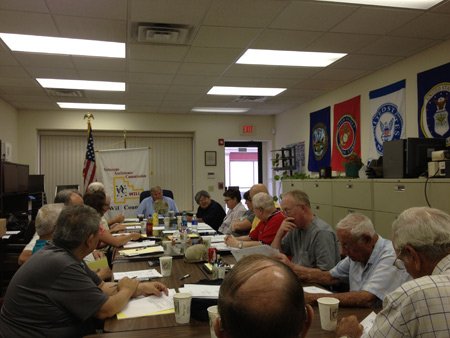 A high ranking official for the Veterans Assistance Commission of Will County abruptly retired Monday after being suspended for five days without pay following a complaint by a co-worker for allegedly making an offensive racial remark while on the job in late May.
Cynthia Ketcham, superintendent of the VAC for the past 14 years, submitted her letter of retirment Monday morning after coming off the five-day suspension served last week.
The 14-memeber VAC board voted unanimously Monday night to accept Ketcham's letter, after Chairman John Kestel announced that she had submitted it earlier in the day.
"She decided it was time for her to leave," Kestel said.
In late May, a black veteran came into the VAC office at 128 N. Scott St., in Joliet, and became upset while speaking with Ketcham, according to Kestel. As the man left, he told her he was not a "dumb (n-word)," and after the man left, Ketcham, according to Kestel, said that in the past the man had acted the way he had described himself.
"That's not true," Ketcham said Tuesday. "I did not say that."
Ketcham said the situation was "blown out of proportion." She said she also planned to listen closely to the audio tape from Monday night's meeting.
"If they discussed employees at an open meeting, that's illegal and there'll probably be a lawsuit," she said. "If I feel there was a violation of the Open Meetings Act, I will turn it over to the (Illinois) State's Attorney to make a determination."
When the meeting began Monday night, Kestel said there was no need to go into executive session about the matter because Ketcham had submitted the letter notifying the commission of her pending retirement.
After the May incident, Kristi McNichol, senior veteran's service officer for the VAC, sent two separate e-mails – one to Ketcham and another to Kestel.
"Racial slang is unacceptable and is not taken lightly by me nor should it be by anyone else who participates in the Will County Veterans Assistance Commission," McNichol wrote in the e-mail addressed to Ketcham, dated May 23.
Another office employee then sent an e-mail to Will County Human Resources Director Bruce Tidwell and Regina Malone, the county's assistant Human Resources director, notifying them of the situation.
That resulted in a meeting on June 28 between Will County Human Resource Department officials, Ketcham, Kestel, and other VAC commissioners, Kestel said. Asked whether Tidwell or Malone directed him to suspend Ketcham, Kestel said he did not recall.
"It was highly suggested that something be done," Kestel said after Monday's meeting.
Commissioner Wayne Horne questioned whether the June 28 meeting was even legal, and if it violated the Illinois Open Meetings Act.
Kestel apologized to Horne and other commissioners for how the situation was handled and said he was "under a lot of pressure" at the time. "I was in over my head," Kestel said, adding that this was the first time a chairman had to deal with that type of situation.