Scholarship grant given to Alpha Kappa Alpha Sorority
7/10/2013, 12:20 p.m.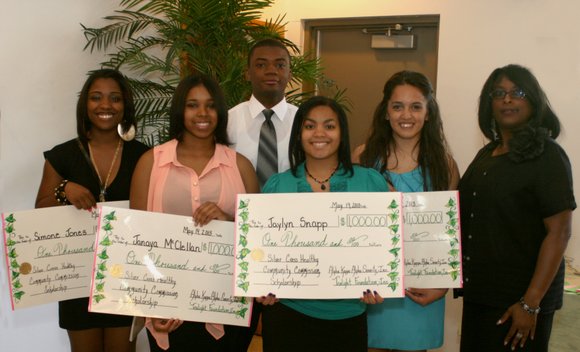 New Lenox, IL - The Silver Cross Healthy Community Commission has allocated $6,000 worth of scholarships to the Joliet Area Kappa Mu Omega Alumnae Chapter of Alpha Kappa Alpha Sorority, Inc., (AKA). Six $1,000 scholarships were given to area students recently by the Joliet Area, Kappa Mu Omega Alumnae Chapter of AKA Sorority, Inc. who, has for over thirty-five years supported and recognized excellence in education throughout the Joliet and South Suburban Areas.
The Sorority awards scholarships to students who demonstrate good grades and community service. With the help of Silver Cross' Healthy Community Commission, they are able to grant new scholarships to six deserving individuals. Scholarship recipients must live within the zip codes 60432, 60433 and 60436.
The purpose of Silver Cross's Healthy Community Commission is to coordinate and enhance existing programs for workforce development, education and business growth with a focus on health care and construction. One of the not-for-profit organization's main goals is to create a stronger, healthier future for Joliet.