Chinese delegation makes second visit to Will County
Shunde District government officials learn about county's role in global economy
7/11/2013, 8:37 p.m.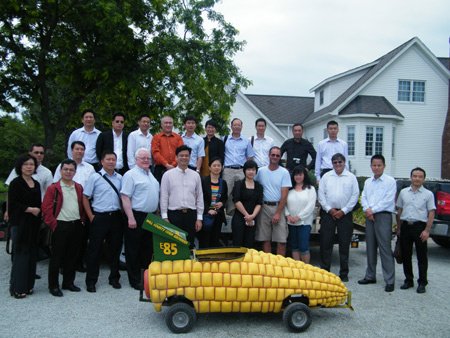 Will County Executive Larry Walsh on Monday welcomed 22 government officials from the Shunde District and Foshan City in the Guangdong Province of China. The delegation was led by Yong Wang and sponsored by the 21st Century Institute in Oak Brook. This visit marks the second time the Institute has brought a Chinese delegation to Will County.
The Chinese visitors were interested in Will County's agriculture and its role in the global economic marketplace. The day's activities began with a presentation from Mark Schneidewind from the Will County Farm Bureau. He explained the role of Will County in the worldwide distribution of grain including more than 11 million pounds of grain exported to China and the East in 2012 alone.
The delegation members also visited the farm of John Kiefner, whose family has farmed in Will County since the 1900s. Kiefner showed the visitors some farming equipment and explained how his farm maintains its success.
"I found it very interesting the delegation members were curious about the business aspects of farming," Kiefner said. "They asked a lot of questions about my taxes and subsidies as well as income and expenses."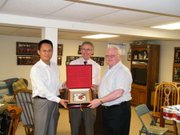 Walsh hosted a luncheon at his home in Elwood where the visitors were interested to see an American farm house and learn more about the farming culture.
During the luncheon, Will County Center for Economic Development President & CEO John Greuling shared a presentation about Will County's intermodal facilities. He said visits such as this are beneficial for Will County.

"Any time we can break bread with officials from China and share one on one economic information, it can further relationships from a governmental and business standpoint," Greuling said. "Will County is in their 'wheelhouse' in the areas of agriculture and business."
Yong Wang, general director in Foshan City, said he can see opportunities for Will County and the Shunde District to work together in the future. He said Foshan is one of the most affluent cities in China with an expanding market in business and logistics. He also said the Shunde District has a population of more than 1.1 million people and GDP of more than $20 million.
"We would like to work with Will County on economic development," Wang said. "The Shunde District has a huge manufacturing district with a lot of internationally known companies located here. We also see the potential of receiving corn to feed our cattle. We import more than two million tons of corn annually to feed our livestock. And we now know the significance of Will County in the production of agriculture."
Walsh said he is pleased Will County continues to attract the attention of business leaders and government officials in China.
"We are truly honored to have these officials from the Shunde District in China as our guests," Walsh said. "We were proud to showcase Will County's agriculture and learn of ways we might be able to work together with these new friends from China."