Akins Walk Off Sends Slammers Into All-Star Break
7/17/2013, 5:11 p.m.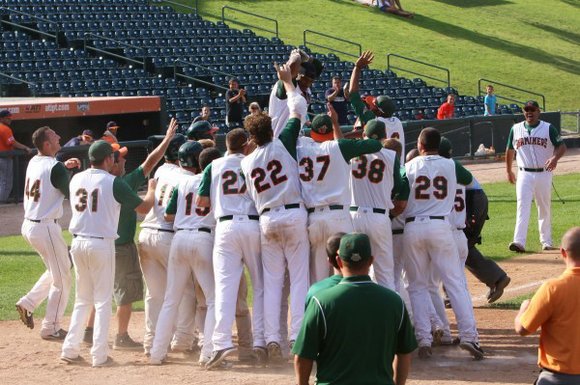 The Joliet Slammers (22-29) did not hold a lead in the final game against the Rockford Aviators (16-34) until Nick Akins took one swing in the bottom of the ninth.
The bases were loaded for Akins with two outs and on a 2-0 pitch the slugging outfielder crushed the first regular season walk-off home run for Joliet over the left field wall, handing the Slammers a 5-3 win over Rockford on Sunday and a series victory.
The grand slam stands as Akins' second of the year and his second long ball of the series as he finished the three game set going 4-11 with six runs batted home. Rockford however scored first in this ballgame in the first inning with Brian Bistagne coming home on a two-out double from Kenny Bryant.
The Slammers produced three, two-out hits in the bottom of the second inning and tied the contest at 1-1 when Seth Schwindenhammer scored on a single from Jerod Yakubik. The tie did not last as Rockford regained the lead in the bottom of the third, scoring one run to retake a 2-1 lead.
Both Shawn Kale for Joliet and Drew Rucinski for the Aviators settled down after the third inning and the game turned into a pitchers' duel until the ninth inning. Rockford added an insurance run in the top of the ninth with Bistagne scoring on a groundout from Bryant, making it 3-1 Aviators. However, in the bottom of the frame, Joliet finally broke through.
Seth Schwindenhammer and Kolin Conner both reached safely on singles to start the inning and they were moved into scoring position on a sacrifice from Yakubik. Niko Vasquez refilled the pads after receiving a one-out walk.
Once Nate Wilder popped out to shallow left field it looked like the Aviators were going to hold on for a 3-1 victory. But Akins had other ideas as he stepped to the plate with two outs and his walk-off grand slam home run secured the victory for Joliet and sent the Slammers to the Frontier League All-Star break on quite the high note.
Joliet has four days off for the break before they resume action back at Silver Cross Field on July 19 against the Southern Illinois Miners. First pitch on Friday is at 7:05 and the pre game starts at 6:50 p.m. on 1340 WJOL and online at wjol.com.