How to fare well at summer fairs
7/17/2013, 6:03 p.m.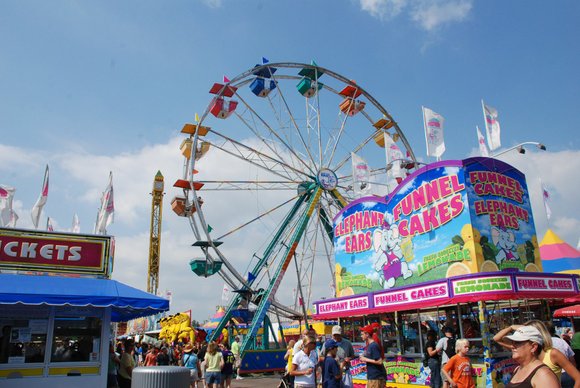 The season of summer festivals is in full swing. Whether it's the county fair or a music festival, vendors are dishing up food that's often disastrous to healthy eating plans. Some of the unhealthiest fare at the fair is fried, included fried Snickers bars, deep-fried butter, funnel cakes, and chocolate-covered bacon. With calorie counts ranging from 450 to 1,000, these popular festival foods can quickly sabotage your weight-loss efforts. Dena McDowell, M.S., R.D., nutritional expert for TOPS Club, Inc., offers these ideas for controlling calories while still having fun at the fair.
Snack First
If you are leaving for an all-day event, start your day with a healthy, protein-rich breakfast - for example, peanut butter on toast with fruit and yogurt. If you're off to enjoy an evening concert, before you go, snack on vegetables, low-fat cheese, nuts, and fruit.
Get Your Exercise In
Why not wear a pedometer and challenge yourself, family, and friends to walk 10,000 steps (about five miles) while you're at the fair? Increase your mileage by grabbing a map from the visitor center and heading to the sights at the opposite end of the grounds first.
Plan Ahead
Many larger fairs, festivals, and theme parks list vendors with healthier menus right on their websites, so you can check out your options before you go. Look for grilled meats and try substituting fresh or grilled vegetables for French fries. You'll cut the calories and benefit from more fiber, vitamins, and minerals.
Skip Sauces
Limit high-calorie condiments like mayonnaise and dipping sauces - or skip them altogether. If you can't live without sauces, dressings, or mayo, ask vendors to serve them on the side, so you have more control over how much you eat.
Share
Try sharing a favorite treat with a friend or family member to reduce calories, fat, and sodium intake and to keep portion sizes in check. An added benefit: you'll save yourself a few dollars.
Limit Drinking Your Calories
Alcoholic beverages such as beer and wine coolers can add an extra 100 to 150 calories per serving. Other calorie-rich beverages include fresh-squeezed lemonade, fruit smoothies, and regular soda. Balance your consumption of sugary or alcoholic drinks with water, which will help you stay hydrated – especially on very hot afternoons.