Benson named Lockport's new city administrator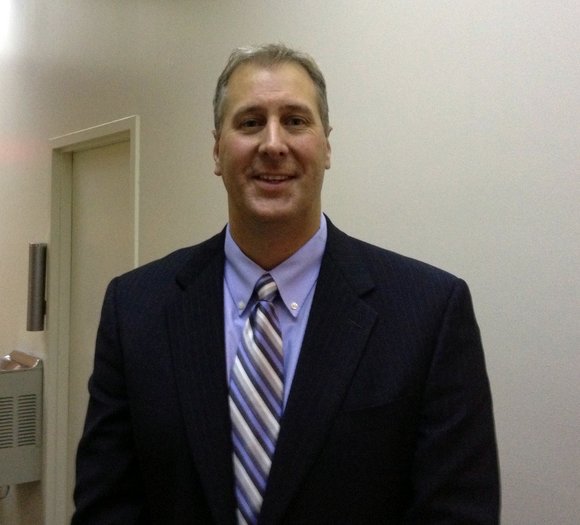 Ben Benson will leave his post as assistant city manager in Joliet next month, but he's not going far.
Following a brief closed session, the Lockport City Council voted unanimously Wednesday to hire Benson as its City Administrator. Benson is set to begin his new job with Lockport on Aug. 12.
"We're excited to have Ben and excited to have a major piece of the puzzle in place," Lockport Mayor Steve Streit said the City Council meeting.
The appointment of Benson and the unanimous approval of his contract by the city council is a big move for Streit, who sees it as a major step toward putting a staff in place to move his vision for the city forward. Streit has been mayor since May after being elected in April.
Frank Koehler has been serving as Lockport's interim city administrator. Koehler will move back to his position as head of the planning department after Benson takes over, Streit said.
This will help to provide a more smooth position for Benson in that Koehler can help get him up to speed on important city matters, according to Streit.
Benson, 42, of Joliet, will be paid a salary of $125,000 until July, 2014, when it increases to $130,000. The contract runs through May, 2017. He and his wife, Kristen, have two daughters.
Benson served as Joliet's assistant city manager under Tom Thanas, who plans to resign his position as city manager sometime within the next couple of months. Joliet has hired a firm to assist the city in finding a new city manager to replace Thanas.
Benson has been with Joliet for the past nine years, and has served as the city's director of marketing and communications, director of visitor services and council liaison for Joliet's Communication and Technology Committee. Prior to his appointment to the city administrator job in Lockport, Benson had been in the running for a city administrator position in Clinton, Iowa.
"I'm absolutely honored and thrilled to be the next city administrator for the city of Lockport," Benson said. "I'm looking forward to serving all the residents, the mayor and city council in that capacity."
Benson looks forward to working on economic develop opportunities both along the Interstate 355 corridor and the city's downtown. He said his time spent working for the city of Joliet has prepared him well for the new position and he's glad to be going to work for another Will County community.