Union workers hold informational picket at Will County building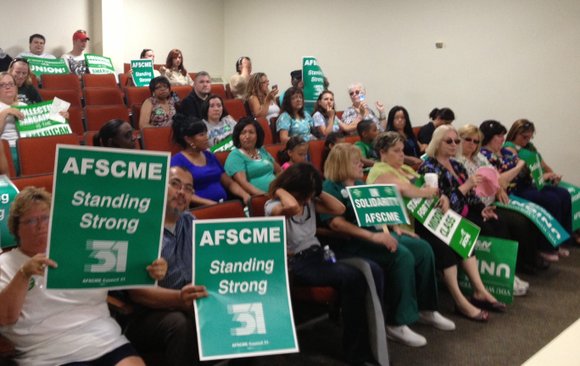 Carrying signs that read "Stand up for the Middle Class" and "AFSCME Standing Strong," hundreds of union employees gathered inside and outside the Will County building Thursday.
Members of American Federation of State County and Municipal Employees Local 1028 have been in contract negotiations with the county for about 11 months and now a federal mediator has been called into assist with the negotiations.
"Our contract expired December 1," said union President Dave Delrose, a counselor in the county's health department. "We're still pretty far apart."
Delrose declined to outline the terms union employees are seeking in terms of wages and benefits.
"I'm not going to negotiate in the press," he said.
The informational picket was timed to be held just prior to Thursday's Will County board meeting.
"We're here to demonstrate to the county board and county executive that we are united behind our bargaining committee to get a fair contract," Delrose said.
Later Thursday morning, the Will County went into closed session to further discuss the contract.
Board Speaker Herb Brooks (D-Joliet) expressed concern for the employees and said everyone is impacted by the negotiations.
"We do feel what you're going through," Brooks said.
County Executive Larry Walsh said he feels the two sides are "very close" to coming to an agreement. He added that health insurance plays a major part in the negotiations. Some of the employees, he said, have worked for the county for 25, 30 and 40 years.
"Will County is a great place to work and we want to treat our employees with respect and give them a decent living wage…," Walsh said.