New group forms to show solidarity
Initiative aims to be a force for social justice at the local level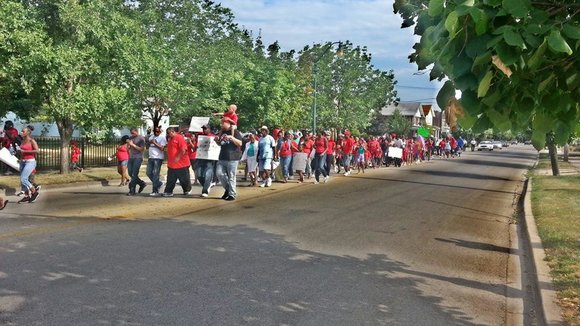 Nearly 200 people from Joliet and the surrounding suburbs gathered Sunday for a march through the city's downtown to show their solidarity and join efforts with the NAACP in seeking justice for the family of 17-year-old Trayvon Martin.
The group has created an organization called R.E.D., which stands for Restore community, Educate and Demand change.
Made up of people from area churches, organizations and businesses, the group marched from the Washington Junior High School track to Joliet Township Central High School, in part, to demand the U.S. Department of Justice take civil action against George Zimmerman, who was acquitted of the murder of Trayvon Martin.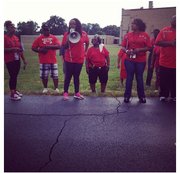 Sunday's unity march, according to organizers, is just a start. Shykira Richards, founder of the group, said she hopes the group sustains itself within the Joliet community "as an outlet for socially just programming and community organizing."
"We intend to create a safe space and foster an environment of respect for self, as agents of change within the community. This initiative builds on a common desire for individuals to speak up and speak out," Richards said.
"R.E.D. will work together and support community organizations and programs that share an appetite in building and nurturing the development of collectively cognizant communities."
During the march on Sunday, many wore red shirts to show their support for the newly formed group. The leaders of the initiative include founder Richards and co-founders Megan Cooper, Brittany Grocesley and Christine Esters.
The R.E.D Unity March created a quite a buzz on social media over the past week, according to Richards. She said web based flyers were released July 16 through Facebook, Instagram and Twitter and two days later she had a team of five who wanted to help her make the march a success. They included the Rev. Craig Purchase, Esters, Grocesley, Cooper, Dreamma Veasy and Mary McNair. Collectively the team reached out to various churches, bike clubs, social organizations (local and national), and fraternal organizations for their support with the movement. These supporters sent mass e-mails to their members and congregations, shared information on social media and made announcements during their church services.
That all lead up to Sunday when nearly 200 people, including adults and children, came out to support the group's efforts and show solidarity by wearing red in honor of the name and theme and chant various slogans, such as "take down, stand your ground."
"I'm very proud of the people of Joliet and all the support that everyone has shown for this peacful initiative," Richards said.
Richards applauded the Joliet Police Department for being supportive of the group's efforts.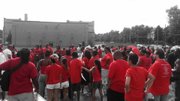 The march featured a number of speakers who encouraged and congratulated all who came out, according to Richards. These included Rainbow Bishop Pavis Grant PUSH Coalition's national representative, Purchase who is pastor of the Mt. Zion Full Gospel Tabernacle, Cook County Board Speaker and Pastor Herb Brooks Jr., of the St. John Missionary Baptist Church, Pastor Lonnie Posley Sr., of the New
Canaanland Church, Richards, Cooper and Jamille Kent, mother of Joliet murder victim Terrance Rankins.
"Moving forward we hope to continue our work in the area of social justice, including crime, poverty, education, jobs, health care and other quality of life issues," Richards said.
For more information about R.E.D., send an e-mail to red4justice2013@gmail.com.