Bolingbrook youth soccer player going for the gold
Alex Ortiz | 7/28/2013, 9:53 p.m.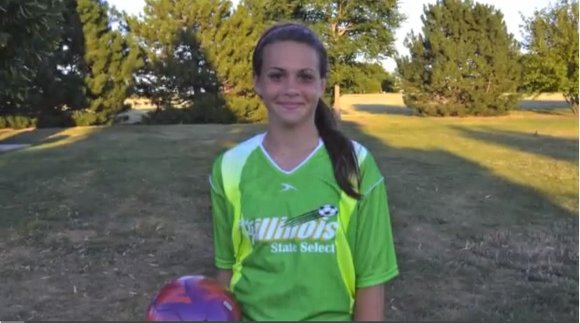 In soccer, the position of goalkeepers tend to stay relatively stationary, but Bolingbrook Soccer Club keeper Julia Lentz, 13, can't seem to stay still. Just put a ball in her hands, and she's off. Even when you get her to sit down, she continues to toy with the ball at her feet.
But when relegated to the goalkeeper box, she shines. Her aggressive style of play has catapulted her to an opportunity to compete against some of the best players in the country. She will be participating as one of only two goalkeepers on the younger Olympic Development Program 1999 Illinois State Team. This opportunity is the first in the process of being possibly being picked for National and Olympic teams. Even with all this happening now, she said when she began playing soccer, she was not a star.
"I think I was around 5-years-old … of course I wasn't good," she said. "I was like, 'It sure doesn't look that hard on television.' "
Like most youth players when they start out, Lentz struggled, that was until she got older and found her true position. She was initially a forward, but when her travel team coach, Greg Hey, put her in goal and she made her first big play, that was when it clicked.
"When I saved my first goal, like a big save, I was like, 'I like doing that,' " she said. "I liked how everybody counted on me."
Lentz doesn't shy away from the pressure of being her team's last line of defense or an oncoming forward on a breakaway, a characteristic imperative for goalkeepers.
"Strength-wise, it's fearlessness (that is) probably the best characteristic a goalie can have," Hey said. "Once every couple of games the opposing coach would look at us on the bench and go 'She's really good.' "
One opposing coach in particular was dumbfounded when during a game, one of his players was on a breakaway and Lentz dove at her feet to make a save.
"Their coach looked over at us and goes, 'Seriously coach, a girl her age, diving at a girl's feet to make a save?' " Hey recalled. "(He said) 'You don't see that.' "
Hey also pointed to Lentz's competitiveness on the field. Even her pink, Under Armour headband says "All I do is win." Her determination willed, not just one, but two teams that she played on this year to first place finishes. She said she refused to give up, even when her team would be behind. Lentz pushed her teammates to stay in the game and they pulled out a few late game victories.
"She takes it personally," he said. "She gets scored on, it's a personal assault on her."
Lentz will have an opportunity to showcase not only her physical skills, but also the result of her work ethic against the best players in Illinois and then, the county. The ODP players had to go through a series of training sessions and even an exhibition match before being invited to the state combine. Players were evaluated by not just their play on the field but also by their intangibles, such as how they communicate. As a goalkeeper, those types of intangibles and being a well-rounded player helped Lentz stand out.
She dreams of playing on an Olympic team just like her idol, Hope Solo, but since she is not yet in high school, she's focused on the significant challenge ahead, something that is already such an honor.
"Not only am I proud for my daughter … I'm proud as her being a player on my team," Jason Lentz, Lentz's father and one of her coaches, said.
Lentz's dad was the first to instill in his daughter was makes her stand out now, and what could bring even bigger things in the future, which both he and Hey know is something special.
"If she's going to keep that work ethic … soccer can be one of these things that can expose her to fantastic experiences," Hey said. "It's all because of the hard work she puts in and that's a great, great message for everybody to learn: work hard, great things happen."