Taste of Bolingbrook served up for first time at Promenade
Alex Ortiz | 7/29/2013, 9:03 a.m.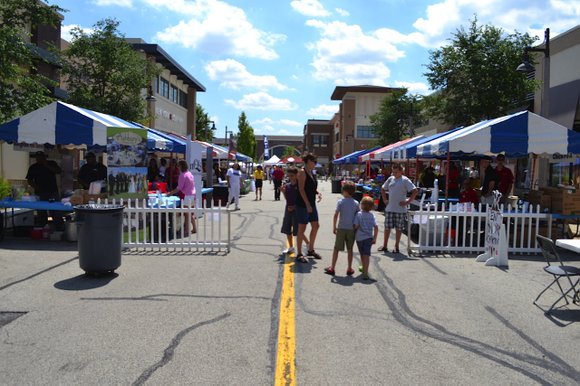 For the last four years, the Taste of Bolingbrook was held behind the Bolingbrook Village Hall. This year, the Taste, its 12 food vendors and 10 sponsors relocated to the Promenade as the event was held on July 25.
"We just felt that the way (Village Hall was) set up, it really didn't bring enough exposure to our businesses," Cheryl Shumake, the Membership Director at the Bolingbrook Area Chamber of Commerce and the Director of the Taste, said. "It didn't really flow."
It was when the Promenade came forward and offered to be the location for this year's Taste of Bolingbrook that the process began. The eight-hour event featured live entertainment, plenty of eating options and fun activities for the kids. Parents could even pay $1 to ride in a mini airplane, called the "Ground Bound," through the streets of the outdoor area, which was the only activity patrons had to pay for.
Shumake and Chamber officials knew the Promenade was the best decision for hosting the Taste because of the potential in spreading the business of its members.
"We moved it to the Promenade so (our vendors and sponsors) could expand their base here because the Promenade actually pulls outside of Bolingbrook as well," she said.
The Chamber really liked the of flow of traffic the Promenade featured and they also partnered to bring in a more popular band called Marrahkesh Express, a Crosby, Stills, Nash & Young tribute band. They even hit a homerun with the weather, as it was a clear and sunny day. The Chamber reported on its Facebook page that the 2013 Taste had a record number of visitors.
"We just knew that this would work best for our Chamber members," Shumake said.
The Bolingbrook Chamber uses the annual Taste as one of their three to four business showcases a year. When they used to do just one large even with about 100 vendors, Shumake said they needed a change in strategy.
"When you do something that large, you really don't get the feel for the people," she said. "I call it the grassroots marketing. You don't really get the personal touch."
Now with a prime location lined up for the Bolingbrook Area Chamber of Commerce and its members, these Bolingbrook businesses are set to not only grow with but connect with the community.